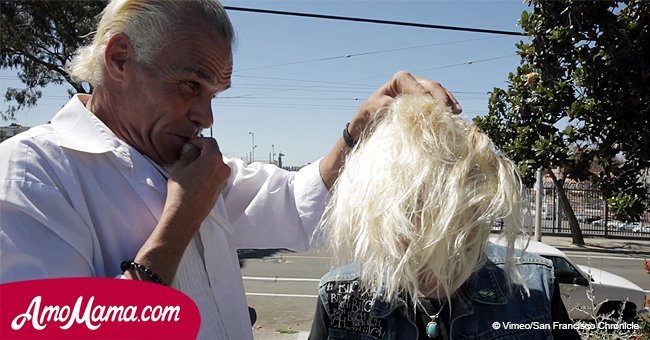 Man cuts the hair of a poor homeless woman living under a bridge. Her expression says it all
Even though he is homeless, he tries to help as much as he can in his community.
A talented hairdresser named J.C. Pearson, who is a homeless citizen of San Francisco, is very passionate about his work.
Together with his beloved dog, Lucky, he has spent the past couple of years cutting and styling the hair of the other homeless people in his area.
Newsner shared a video that went viral where Pearson can be seen making use of his expertise to accentuate the beauty of a homeless woman by styling her hair.
At first, he grabbed a bottle of hair tamer out of his Ralph Lauren purse and ran it through the woman's hair then smoothed out the edges with a comb. The woman was very appreciative of what Pearson did for her.
Pearson has been a hairdresser for several years but he became homeless when his business went bankrupt a few years back.
Since then, he has spent his days volunteering at the hospitality house.
Pearson said, "Why do I cut their hair? Because I think that if you look better and you feel better about yourself, it gives you more confidence to approach the situations or the tests you're gonna be put through."
51-year-old Pearson explained that he had previously owned a successful salon in his thirties. Although, after a number of deaths in his family and with his health condition, he was forced to live on the streets.
He said that he had a heart attack and he had no insurance. He lost his house and his salon within a month because of his medical expenses.
Pearson shared that he tries to help other homeless individuals gain back their confidence since a lot of them are often neglected when they try to apply for any job.
He confessed that he has a hard time to motivate himself and he isn't at all trying to "get back on his feet," but he said he tries to encourage the others at the Martin de Porres Hospitality House to do so.
Please fill in your e-mail so we can share with you our top stories!