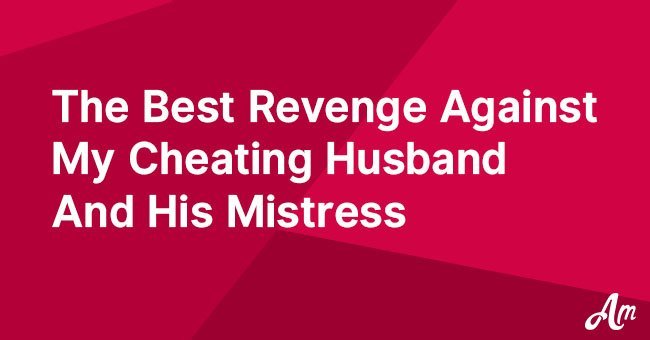 The best revenge against my cheating husband and his mistress

Dear AmoMama,
Not long ago I learned that my husband was having an affair. They say a woman 'always knows' but I never suspected until someone sent me an anonymous e-mail. My nameless 'friend' said my husband was cheating on me with a mutual 'friend', a woman I had trusted completely up until that moment.
My husband was 'working' late more and more, and one day he told me not to wait up because he had an emergency deadline. So that afternoon I went into town and cleaned out our bank accounts.
That night I took the spare keys to his car and drove out to my 'friend's' house. There was his car parked near her house, so I parked my car behind his. I got into his car, used the spare keys and drove it home.
I either slept very soundly, or he was very quiet getting in because I didn't wake up. That morning he was very quiet at breakfast and even did the dishes which he NEVER does. He tried to kiss me goodbye, but I turned my face away, so he missed my lips. He asked me if I wanted him to run errands, go shopping or pick up the dry cleaning: Again very unusual for him.
As soon as he left, I called the locksmith and had the locks changed on the house, and packed his clothes into cardboard boxes and left them out on the curb in the rain. Believe it or not, he was home on time that afternoon for the first time in six months and he had a bunch of flowers with him. He rang the doorbell for hours until I told him I would call the police.
I have asked my lawyer to file for a divorce, but my husband is begging me to forgive him and to give him a second chance. Apparently, his lover, my old 'friend', is not so loving 24 hours a day.
He tells me he will put the house and all our assets in my name, he wants nothing and will sign anything as long as I let him come home.
This man says he loves me and will do anything to earn my love back. Can I believe him? Should I believe him? He says that the moment he lost me he realized how much I mean to him and says he will go to therapy with me.
I don't know what to believe. Should I give him a second chance? Has anyone gone through the something similar? What would you advise?
If you need help or advice, reach out to us, and thousands of women just like you who are struggling with the difficulties of life. You are not alone, we are here for you, and we listen; so write to us anonymously using this form.
Please fill in your e-mail so we can share with you our top stories!