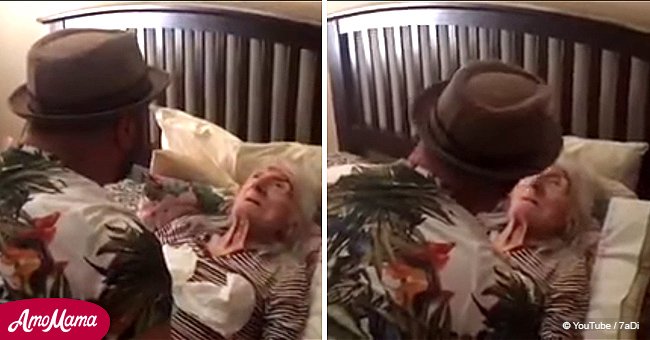 98-year-old sick grandma has an unforgettable response when her grandson sings for her
A video of a grandson singing for his grandmother showed the special bond they share.
Inspiring.ntd.tv reported that artist Ash Ruiz celebrated his 98-year-old grandmother's birthday by singing a beautiful song.
Ruiz did not sing the usual rendition of Happy Birthday for his grandmother's special day. Instead, he chose a beautiful version of Unforgettable by Nat King Cole.
The song is special for both of them as they used to sing it together when Ruiz was just a young boy.
The heartwarming gesture was caught on camera. Ruiz later shared the video on Facebook and it instantly went viral, garnering over 130,000 times.
In the video, the artist is seen sitting on his grandmother's bed, while she is lying down staring up at him. As the song comes to an end, she begins wiping her tears with tissues.
Unforgettable is one of Ruiz's grandmother's favorite songs, a song she taught him when he was just eight. In fact, the duo used to do duets together.
However, his grandmother lost her singing voice in the late 1980's.
"I have the most precious memories of my Grandma Jean doing everything with a song. It didn't matter if she was doing laundry or making lasagna, she was always singing and her voice was rich, velvety, and beautiful."
Ash Ruiz, Mail Online, August 8, 2017.
The Florida man began singing the song for her birthday every year. Life put the two in different parts of the country, but he continued the tradition singing the song every year, even if it was on phone.
For her 98th birthday, however, he wanted to surprise her and decided to sing her favorite song by her side.
Ruiz said he is amazed at how he held it together for most of the song. However, the video does not capture his tears that followed.
The music artist hoped that the video inspires others to spend more time with family, especially the ones who may not stick around for long.
Please fill in your e-mail so we can share with you our top stories!