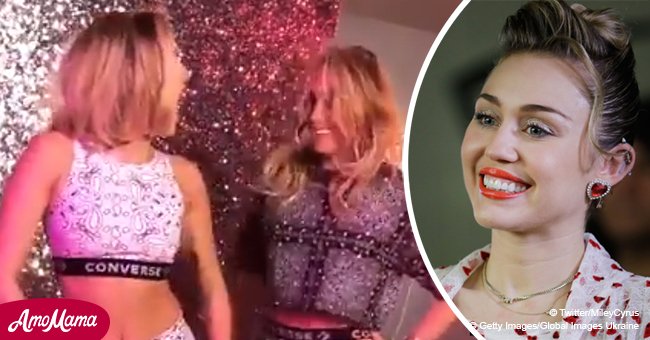 Miley Cyrus lets her mom spank her while they celebrate Mother's Day
The pop star shared a Mother's day message to her social media account, but at usual it was slightly different to the average post for the day.
Miley Cyrus took to Twitter to wish everyone a happy Mother's day, but rather than posting just a sweet message, the singer decided to amp things up a bit and get her mother and tight bedazzled clothing involved as well.
In the short video clip, Miley is wearing a white and black patterned sports bra from Converse, with a matching pair of loose fitting pants and platform Converse shoes. She has on a bright red lipstick, and her blonde waves hang loose.
Her mother, Tish Cyrus, is in a similar outfit in black, but with a longer top with half-sleeves and a tighter pair of pants. Her hair is also hanging loosely about her shoulder, and she is sporting a large pair of hooped earrings.
Both outfits are heavily bedazzled.
Throughout the clip, Miley jiggles around - not quite her twerking from days past - while Tish lightly spanks her on the bottom. Miley repeatedly fluffs her hair and pulls a fake screaming face.
The mother-daughter duo were posed in front of a sparkling set piece, where they were doing a shoot with Converse.
Miley also shared other photos from the shoot to Twitter, including one that also featured her grandmother, Loretta. That one she captioned: "3 Generations of GO GETTIN' Women! Happy Mothers Day To All."
But there was another reason for Miley to be celebrating the special day, as it turns out May 13 is also Tish's birthday. She shared another pair of photos just with her mother to wish her a wonderful day.
Miley has just recently announced a collaboration with Converse after first teasing the possibility with a pair of shoes in November.
On that occasion she took to Instagram to share a number of shots of herself with various Converse shoes.
Please fill in your e-mail so we can share with you our top stories!