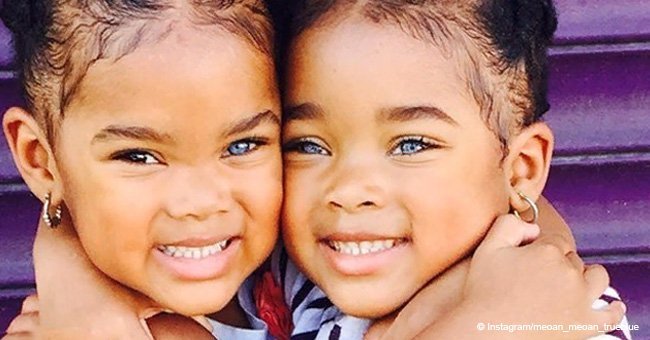 Girls called 'world's cutest twins' look so grown up wearing high heels in new photo
One of the most beloved twins in the world continues to dazzle the audience all over with their amazing photographs and a unique difference
The twins who won the widespread adoration and love from people all over the world, Megan, and Morgan Boyd, have grown up but they continue to win the hearts of the Internet users with their adorable Instagram snapshots.
The twins, who were born in 2013, have become one of the biggest Instagram sensations in the recent years with their cute pictures that everyone loves to share.
The twins from Philadelphia became popular on social media after a photograph of them, taken by their mother, went viral. Since then their Instagram account has accumulated over 50,000 followers.
Megan and Morgan are identical twins, but they do have one physical feature that stands out and sets them apart.
The twins are different only in the color of their eyes. While Megan has two beautiful blue eyes, Morgan has only one blue eye, and her other eye is dark brown - a rare combination that has made her unique in her own way.
It is quite apparent why the world has come to appreciate the cute twins. They are quite similar to one another, but they have a unique appeal about them that sets them apart from other children.
The beautiful twins are already looking like they will go on to become great models. Their Instagram feed shows just how comfortable they are in front of the camera and how they enjoy doing photo shoots.
In one of the snapshots on Instagram, they can also be seen modeling for a beautiful Jumper from Little Miss Brazil Collection.
Another snapshot shows the twins posing beautifully in stylish black dresses for the photographer Robert Smith.
Please fill in your e-mail so we can share with you our top stories!