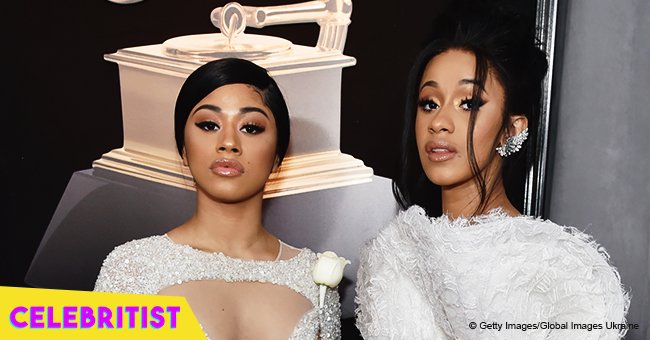 Cardi B's queer younger sister gives her girlfriend a kiss in front of Eiffel Tower
Cardi B's sister Carolina Hennessy kisses her girlfriend in front of the Eiffel Tower, sharing a powerful message amid Pride Month celebrations.
While Cardi B has been taking the spotlight recently, her younger sister Carolina Hennessy has been making waves since posting a sweet photo kissing her girlfriend in front of the Eiffel Tower.
In the caption of her photo, Carolina called her girlfriend "my wife", despite not officially announcing any news of a wedding between the two of them.
"If you can't accept the B In (L)LGBTQ.. (L)lesbian (G)ay (B)BISEXUAL (T)ransexual (Q)ueer, then please don't speak up for the community if you can't fully understand ALL of us! A bisexual girl expressing that she sometimes likes to kiss and hook up with girls especially when she gets a little loose when she drinks wine, Sounds human and normal to me! I don't have a problem with that!! Whether you want to go out, have some drinks and hook up with the same gender for one night or whether you decide to be in a relationship with him/her, it should be no one's concern or business or even PLACE to tell you how to complete your sexual desire unless you're a pedophile! You can STILL consider yourself LGBTQ if you to choose too! Bisexual means you're attracted to both genders. No matter what's the status of the relationship or what you chose to do with that person ... If a woman like to be in a relationship with a man but like to enjoy her sexual desire with a woman from time to time she can still considers herself to be a BISEXUAL! same goes for men..... and please if your still in your confused stage, please don't talk for the whole community until you can fully comprehend ALL of us! We don't like to be the judge or to be labeled! We just want be excepted for who we are... Love is love! That being said HAPPY GAY PRIDE MONTH FROM ME AND MY WIFE"
Meanwhile, Cardi shared the reason behind her stage name during an interview with Wendy Williams last year, saying it was all because of her younger sister. Cardi, whose real name is Belcalis Almanzar, was used to being called "Bacardi" given that her sister's name was Hennessy. The rapper then shortened it to Cardi B.
"Her name is Hennessy, so everybody sued to be like 'Bacardi' to me. Then I shortened it to Cardi B, and the 'B' stands for whatever... depending on the day."
Fans should start getting used to seeing more of Hennessy in the spotlight, especially after she claims she is ready for it.
"I'm comfortable with it, yeah. I like it actually."
Along for the ride is Hennessy's girlfriend Mel, whom she has been dating for over a year. The two have been having a grand vacation, and there's no place better to celebrate their love but in the city of love itself.
Please fill in your e-mail so we can share with you our top stories!