La La Anthony shows off her physique in thigh-high slit dress in pic with Beyoncé's mother & cousin
La La Anthony stunned with a gorgeous form-fitting black dress at the pre-BET Awards dinner held in Los Angeles on Wednesday night. The "Starz" actress posed with Tina Lawson and Angie Beyince at the event, days after she revealed how ready she is to start dating again.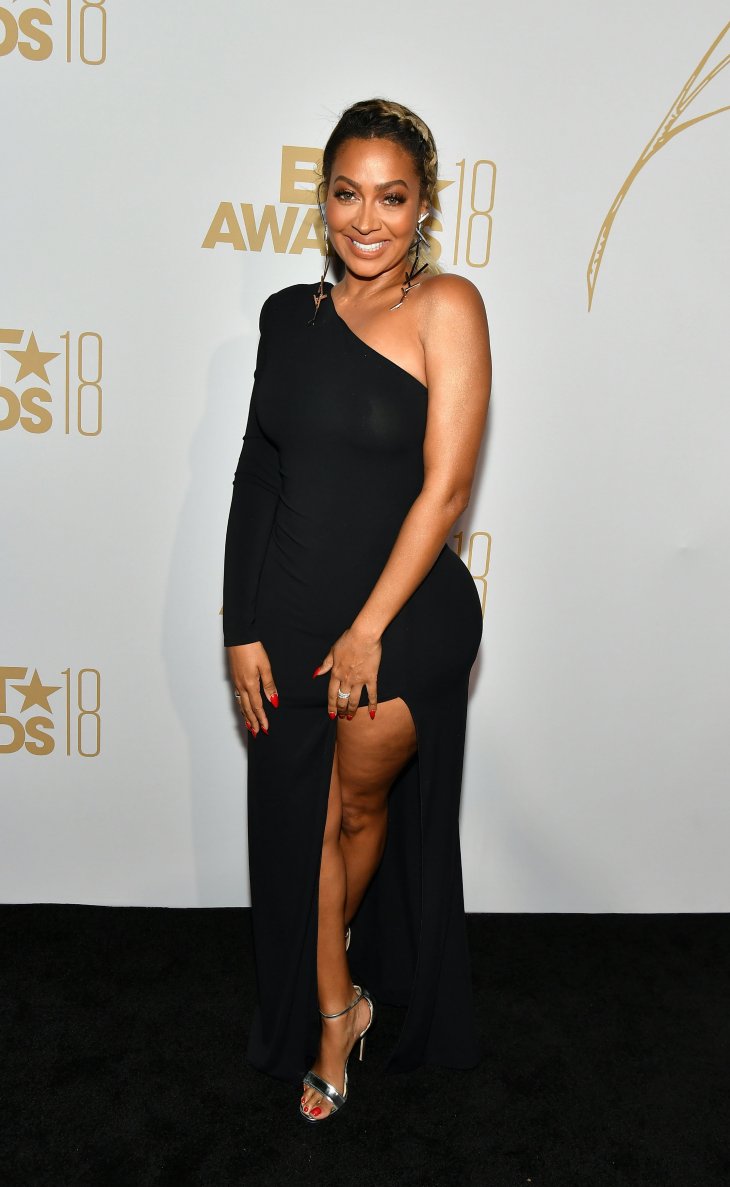 Showing off her curves, the star smiled brightly as she posed in the red carpet with Beyoncé's mom, Tina Lawson, and cousin, Angie Beyince, better known for being the singer's personal assistant, collaborator, and VP of operations at Knowles's entertainment.
The trio and the rest of the attendees were celebrating Debra Lee, former CEO and chairman of Black Entertainment Television for all her achievements at the company through the three decades she worked on it. Earlier this year, it was announced that Lee was stepping down from her position.
"Night out with my favorite ladies @mstinalawson & @angiebeyince honoring @iamdebralee for her amazing achievements at BET. We had a blast!!!," La La wrote.
Anthony looked glamorous in a tight off the shoulder black dress that put her toned legs on display with a thigh-high slit. She completed the look with a pair of silver ankle-strap heels, dangling earrings and her beautiful blonde locks tied in a stylish braid. 
The 38-years-old shared a beautiful pic on her Instagram account posing at the door of the car that took her to the event and showing off her curves as she wrote in the caption "Black effect," earning praises from her fans for her always-on-point fashion style and fit figure.
A few days ago, she talked to US Weekly, and for the first time after her separation from husband Carmelo Anthony, addressed the situation of her love life. 
The couple, married in 2010, went their separate ways in April 2017. Many fans had hopes about a reconciliation since a divorce is not in the works yet, but La La revealed that between her job and motherhood, a relationship is not one of her priorities right now.
"I'm just really, just open to focusing on … my son and what he's doing," she confessed, "That's where I put my energy and my focus right now. With all of my workload and my son's schedule, I really don't have time for anything else."
The former couple's son, Kiyan, celebrated his 11th birthday in March, and despite their differences, La La and Melo are working together in order to make the experience of co-parenting a successful one. 
The actress said:
"When your love for your kid is at the center of everything, you can't go wrong. So we're focusing on showering him with love, and it's great that Melo's … it's not great that he's not in the championship, in the finals. We would've loved that. But it's great that he's back in New York, now, and present for all the practices and games and school trips, and everything for our son. That's something that we're really happy about and my son is super happy to have his dad home right now."
La La is a working mother with a pretty busy schedule, so is good that she can count with the father of her child to help whenever she has work compromises to attend.