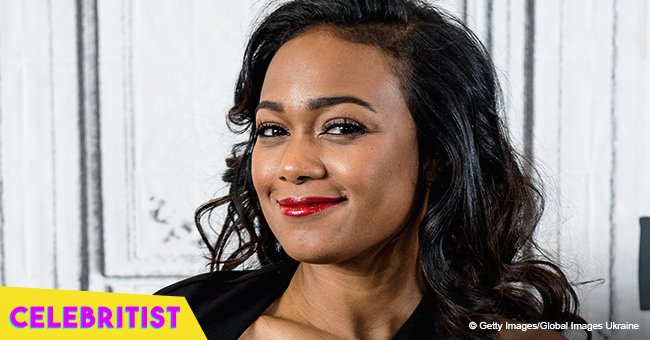 Tatyana Ali melts hearts with photo of her mother, son and husband during a march
The actress has been one of many celebrities who have spoken out about the current administration's policy of separating families at the US border, and took to social media to document her involvement.
Tatyana Ali, known for her role as Ashley Banks on The Fresh Prince of Bel-Air, is all grown up now, and even has a family of her own in real life. Her journey as a mother has made the US immigration policies all the more horrific for her.
On June 30, a number of protests took place all across the United States about President Donald Trump's policy that is seperating children from their parents as the families seek asylum in the country.
Ali and some of her family members decided to attend one of the marches, showing their support for the growing dissent in the country.
"#familiesbelongtogethermarchsf#familiesbelongtogether #sanfranciscoFamilies don't belong in detention centers! Babies belong with their parents, their families. Congress do your job. The people are!" she captioned the shot.
Ali even took her young son along to the rally, although the little boy is far too young to understand the importance of his family's presence.
Others who attended with Ali were her husband, Dr Vaughn Rasberry, and her mother, Sonia Ali. In the background of the image were plenty of other protestors, some even with placards to express their discontent.
Ali and Rasberry married and welcomed their son, Edward Aszard Rasberry in 2016 after getting engaged earlier in that year. They first met on eHarmony, and explained that they had instant chemistry.
Since her baby boy was born, Ali has spoken about the intense change she went through in an instant when she first met him.
"Becoming a mother has opened my heart to a bottomless depth of feeling," Ali told People Magazine. "Through our son, I see the world with new eyes. We've completely fallen in love."
After her run on The Fresh Prince of Bel-Air, Ali went to Harvard University where she studied African American studies and government. Since then, she has been vocal in politics, campaigning for Barack Obama in 2008 and 2012.
Other acting credits Ali has to her name include Sesame Street, Glory Road, Buppies, and Nora's Hair Salon.
She has also dabbled in music in her career, with an endorsement from Fresh Prince costar Will Smith, and hit number three on the charts with her song Boy You Knock Me Out which featured Smith.
Please fill in your e-mail so we can share with you our top stories!