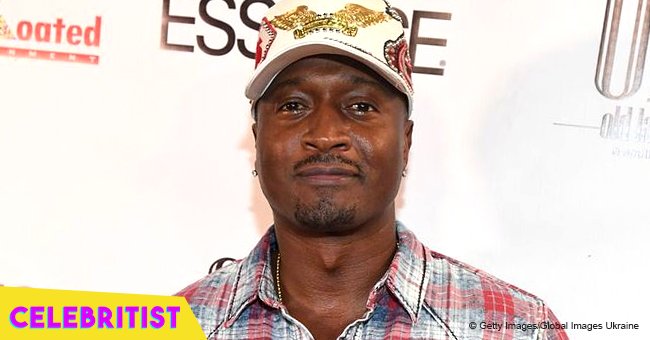 Kirk Frost's adult daughter flaunts curves in white top and skintight shorts in recent photo
The singer, rapper, and songwriter's daughter has been carving out a career of her own lately, dabbling in rap herself, as well as appearing in a reality television show.
Kelsie Frost, the oldest child of Kirk Frost, is just 23 years old. But despite her tender age, she is already making a success of herself, releasing original songs Out Of Character and Automatic.
She was also a new addition to the popular reality show, Love & Hip Hop: Atlanta in 2015, on which she can be seen working in her stepmother Rasheeda Frost's store, Pressed.
As she has become more famous, Kelsie's Instagram following has grown to more than 220,000. She recently took to the social media site with a collection of photos of herself in tight-fitting exercise gear.
In the image, Kelsie is wearing a cropped white t-shirt with a high scoop neck and short sleeves. She also has on a pair of orange shorts with short fishnet tights sticking out beneath them. Both the shirt and shorts read "Obviously Vintage."
The outfit leaves her midriff exposed, even with the high-waisted shorts and shows a hint of her navel ring over the waistband of the garment.
She has completed the look with a pair of black sneakers with white accents. Kelsie has tied half her hair up into a high ponytail on top of her hair, in a look that is reminiscent of one her stepmother favors.
Her father, Kirk, has been married to Rasheeda Frost since 1999, but it was recently revealed that he had had an affair and fathered a child with Jasmine Washington. Following that scandal, it seemed their marriage might end.
But so far they are holding firm together, and seem to have reconciled.
When the news broke, Kelsie was inredibly critical of her father's actions, calling him out for hurting Rasheeda so badly by cheating on her.
Despite her anger at her father, Kelsie also seems to have forgiven him, and the pair often share photos of them together to their respective social media accounts.
Kirk first made a name for himself as part of the hip hop trio Da Kaperz. His first platinum-selling single, Shorty Swing My Way, was created with another member of the trio known as KP.
His music has also been featured in films such as Paul Blart: Mall Cop, Beauty Shop, and Day Of Wrath.
Please fill in your e-mail so we can share with you our top stories!