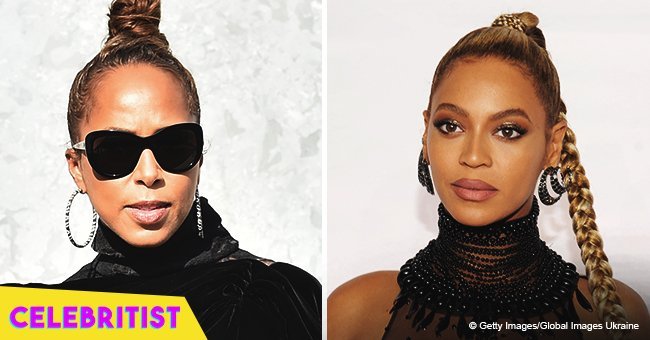 Marjorie Harvey & Beyoncé rock the same ostrich feather-embellished heels stepping out with husbands
The two women were spotted in the exact same pair of shoes, even wearing it in similar fashion with their choice of dresses for the occasion.
Enjoying a dinner date out with her husband in between shows on her On The Run II tour, Beyonce stepped out in a pair of stunning black heels from Yves Saint Laurent that featured feathers coming out of the accessory at her ankles.
Around the same time, Steve Harvey and his wife, Marjorie Harvey, celebrated an anniversary, and the television personality's wife happened to be donning the exact same pair of shoes in their celebratory photos.
The Shade Room picked up on this and decided to share photos of the two women in their respective shoes side by side, futilely asking who was wearing it best.
Beyonce had chosen a black velvet dress with long sleeves and a high neckline for her dinner with Jay-Z. The dress, while featuring a short hemline that fell halfway up her thigh, also featured half a cape hanging down one side of the skirt.
She had her dyed blonde hair tied up in a high ponytail on top of her head, and wore a pair of gold hooped earrings.
The feathered heels clock in at a whopping $1,295.
Meanwhile Marjorie also decided to stick with the monochrome look, opting for a similarly short dress with three-quarter sleeves with puffy ends. She also wore hooped earrings, although hers were silver.
The couple had decided to have a photoshoot for their anniversary, and the image they shared showed them on a sandy pathway overlooking a beautiful cliffside and the ocean's waves crashing below.
Steve wore a powder blue suit with a matching waistcoat and a white button-down shirt for the occasion, with a pair of white shoes.
They also took photos on the small beach itself, with the talk show host's wife opting to keep her expensive shoes on as she wandered onto the sand with her heels sinking away.
The couple has been married for 11 years, first tying the knot in 2007.
Please fill in your e-mail so we can share with you our top stories!