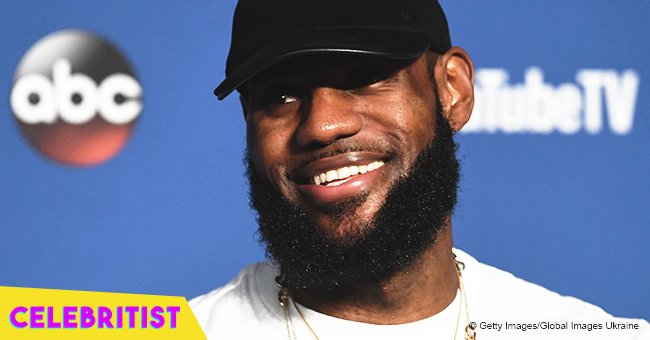 Lebron James braves the height and jumps off a cliff before leaving Cleveland Cavaliers

LeBron James seems to have taken more than one risk this week, after he was filmed jumping off a cliff with his son Bronny.
Making the most out of summer vacation, LeBron took his family to Anguilla last Thursday, daring each other to go cliff diving.
According to TMZ Sports, his son LBJ Jr. showed him how it's done, jumping without any hesitation. However, when it was LeBron's turn to jump, he froze. While he did hesitate, the NBA star made sure to take the leap after hyping himself up while standing on the edge of the rock. Prior to jumping, he yelled:
"It's all about America [expletive]. Let's go! Let's go! Let's go! Black excellence!"
James posted the cliff jump experience on Instagram, trying to prove that he actually did jump after his Instagram stories got cut prior to him jumping.
"Everyone asking me if I really jumped earlier from my story early on today, well here you go! Haters will say it's fake(videoshopped). P.S excuse my language but it's Still #BlackExcellence #JamesGang"
The James family's outing came after LeBron announced his move to the West Coast. His next NBA chapter will be with the Los Angeles Lakers, on a four-year, $153.3 million contract. The announcement was initially made through his agency, Klutch Sports Group, which previously announced the deal as $154 million.
ESPN's Brian Windhorts reported that the fourth playing year is a player option. It is James' longest deal since he signed a six-year contract with Miami Heat in 2010. His deals prior to his stint in Miami were three years or shorter.
The former Cleveland Cavalier bid goodbye to his hometown as a free agent for the second time in his entire NBA career. Four years ago, James made an announcement that he would finish his career with the Cavaliers. However, now that it's clear he will be moving to LA, the four-time MVP and 14-time All-Star has definitely made a mark in Cleveland during his stay.
In a now deleted Instagram story, James thanked his hometown for the incredible opportunity to play for their team.
"Thank you Northeast Ohio for an incredible 4 seasons. This will always be home."
Now that LeBron is moving to the Lakers, fans have dubbed it as "#LABron", which has gone viral on social media since the announcement.
Please fill in your e-mail so we can share with you our top stories!