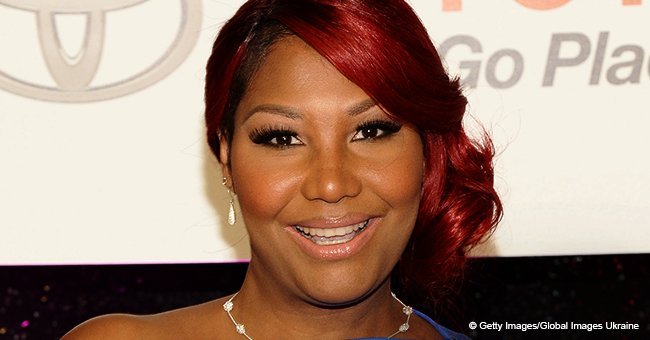 Traci Braxton gets slammed after showing red hair & slimmer body in ripped leather pants in pic

The American singer, reality television personality, and radio personality has become a first-time grandmother, but that hasn't forced her to change her wardrobe, which often resembles that of a much younger woman.
Traci Braxton is still creating music, recently released a new album, and is even going on her solo tour now after her older sister Toni Braxton booted her and her sister off of her upcoming Sex & Cigarettes tour, all at the age of 47.
Her many Instagram photos show a woman still actively enjoying her life and her career. They also show a daring woman who is able to dress in tight and revealing outfits that women half her age wouldn't be confident enough to pull off.
A recent image shows the R&B singer in a pair of leather pants with large cutouts all the way up the sides of her legs. She completed the look with a tight black tank top, with a lacy overshirt and a pair of strappy leather gloves.
Her vibrant red hair was the only hint of color in her outfit, and she accessorized with a long silver chain around her neck and a pair of short drop earrings.
But some of Braxton's fans weren't quite as enamored with her look.
Latoya Cheeks wrote: "This isnt a good picture of you," while Tawana Harris added "she is the most negative person I'm a devout Christian & that look a mess as a grown woman as a mother and a grandmother a mess"
Fortunately, the singer had plenty of fans to back her up and defend her as well.
In another image, she opted for a black leather corset top with no straps, that also hung so low it looked like her chest might pop out of the top of it. It's unclear what she was wearing on her bottom half.
She also had on a diamante bracelet, and a long chain necklace that she playfully held up to her mouth as she stared into the camera. Her short fiery red hair was left loose, and matched by a bright red lipstick.
In three days, the post had raked in almost 17,000 likes.
Braxton has recently lost weight after she started to steadily gain 40 pounds. She recently shared that she had never had a problem with her weight until she turned 35.
"Then, my stressors triggered my weight gain," she explained, adding that those stressors included "My relationships, and being a mom to two teenagers."
Fortunately, having been skinny her entire life, she quickly realized that she wanted to get back to her former figure. Despite her sister signing her up for Weight Watchers, she never went, and decided to change her lifestyle.
While it was a challenge for her to make these changes, she finally found ways to alter her diet to cut out unhealthy foods, and to incorporate more water. She also insists on eating smaller portions.
She has also added exercise to her daily plan, whenever she is able to.
"When my schedule is okay I work out 5 times a week. I take a core class with weights and I do walk/run interval training," she said. "Weight training is my favorite. I like the burn that your body gets. It gives you a sense of accomplishment. I love thinking, 'I really worked this! I'm really gonna see the results!'"
Please fill in your e-mail so we can share with you our top stories!