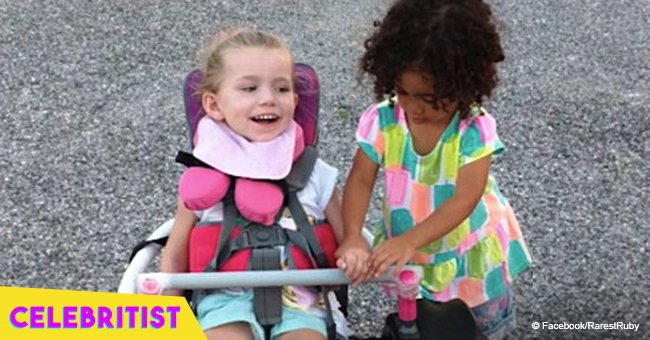 Little girl helps her disabled friend use a new electric wheelchair
This little girl's best friend is disabled, but she has stuck by her side through it all regardless. When her friend got a new motorized wheelchair, she was right there to help her figure out the new contraption.
Little Ruby needs a wheelchair to get around due to her disability. Recently, the sweet girl was given a new chair, a completely motorized chair with three wheels, and a bar that she needs to push to operate the small vehicle.
Her best friend, Abbie, proves that children are born only with love, and the adorable tot is always by Ruby's side, ready to help at any time.
A recent video showed Ruby's first attempts at operating her new chair, with Abbie right there on hand to show her how.
The bar across the front of the chair needs to be pushed in order to move the wheelchair, but Ruby seems uncertain about what to do. Abbie is there to whisper to her, and to place her hands onto the bar and encourage her to push.
In the background, adults can be heard warning Abbie to move out of the way when Ruby starts to move. Next thing, the tot goes flying around a cone that has been put on the ground next to her chair.
When she stops, Abbie is right back next to her, and the two little girls can't help but giggle at one another.
The beautiful display of friendship sees Abbie placing her friend's hands back on the bar, and to whisper more words of encouragement in her ear.
The two girls also seem to be staring meaningfully into each other's eyes, speaking to each other without using the actual words.
Abbie happily skips around her friend's chair, making sure Ruby is comfortable and happy with her chair, and ensuring she is figuring out how to operate it with a smile on her face.
Please fill in your e-mail so we can share with you our top stories!