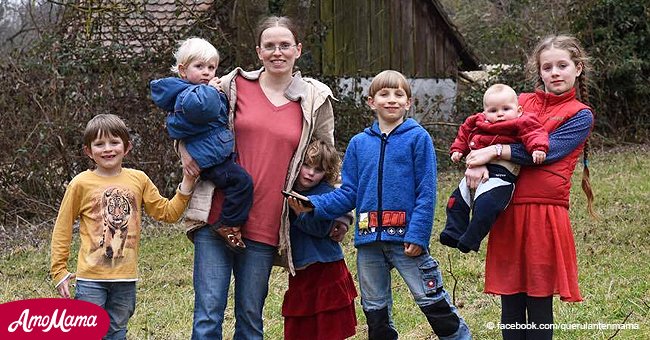 Mother-of-6 streamed her homebirth in the garden to over 1 million viewers
More than 1 million people watched Sarah Schmid give birth - after she delivered her youngest son by a slide in her back garden and then published the video to a popular video-sharing site.
As reported by The Sun, Sarah, 36, had all six of her children, Johanna, 11, Jonathon, 10, Emanuel, 8, Elisabeth, 6, Konstantin, 3, and, Kiran, 1 - outside of a hospital.
When she gave birth to Kiran, she decided to post the footage of the experience to her YouTube channel. The first video has been viewed 688,000 times and the second copy has 700,000 - meaning the video garnered around 1.4 million views in total.
Follow us on our Twitter account @amomama_usa to learn more.
"A woman looks like a woman. It is the most natural and normal thing in the world. I don't think it's strange," Sarah explained why she decided to share her experience.
"In old cultures the girls would watch their mothers give birth so they would know what it was like. Now the chance to do this is very small."
Sarah, who is married to 41-year-old Tim, added: "This gives people the chance to see birth, and especially birth without intervention. It's a rare thing to see."
According to her, the responses to her unusual birthing technique have been so different.
"Some people are excited and some think it's the most stupid think I could do," she said. "I don't mind. I love my happy and healthy family."
Sarah had been 'put off' traditional child birth when training as a doctor.
"I studied medicine to become a doctor, although now I am a full-time mum," she explained. "There I watched people giving birth in hospital and I thought, 'I can't do this. It isn't relaxing.'"
The experience made Sarah want to give birth without intervention. She said that she decided to forgo any medical assistance for her second child Jonathon after having her daughter Johanna at home with the help of a midwife but no pain relief.
"I didn't like having a midwife and the birth was long and painful – I was in labour for 15 hours. I did a lot of reading about birth myself. I tried to learn everything about birth I thought I should know," she said.
Please fill in your e-mail so we can share with you our top stories!