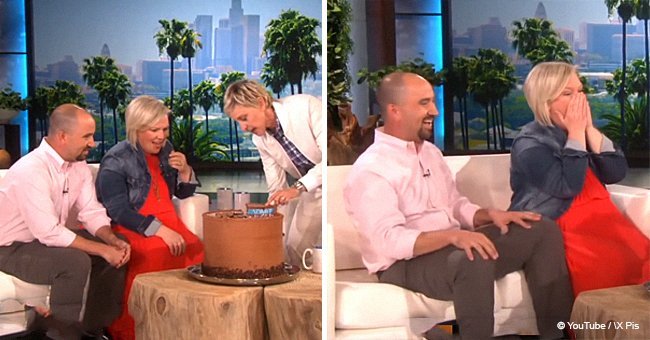 Mom of six boys was finally expecting a girl, so Ellen surprised her with money

When this couple found out they were expecting their seventh child they decided to do a gender reveal party, where they had a friend find out the gender of the baby and bake it into a cake.
Stephen and Cher Lair welcomed boy after boy after boy, six times. They love their big family of boys but always hoped to have a girl. When they found out they were expecting again in 2015, the couple assumed it would be another boy.
As you can see on their Facebook page, the Lair family decided to add some suspense to this new baby, so they chose to get to know about the gender of the infant through a new trend called Gender Party.
The family gathered together as Cher cut a gender-reveal cake – pink if she was having a girl, blue if she was having a seventh son. "It's going to be blue," she predicted. When she glimpsed the pink filling, Cher started screaming as her reaction was priceless.
The video had 600 views within a day. Before the couple could even figure out who those viewers were, they racked up more than six million further hits. It was a colossal number and one that led to their appearance on DeGeneres' show.
Soon, the Lairs found themselves as guests on Ellen's show. There, they explained what a "gender reveal" was, as she had never heard of the idea.
They explained how, after having six boys, they had a lot of baby stuff. Unfortunately, their old baby clothes and supplies were all meant for boys
DeGeneres presented another cake in front of the Lairs, saying she couldn't pass up the chance to see that now-famous reaction of Cher's.
And inside was another surprise: an invitation to return to Los Angeles to be DeGeneres's Mother's Day episode. Predictably, Cher's hands shot up to cover her delighted face.
During that special episode, thousands of dollars worth of products were given to the lucky women who attend.
Looks like this special cake revealed the perfect present for a mom about to welcome her first girl! Thanks to Ellen's generosity, the Lairs were prepared to meet their little girl when she arrived later that year.
Please fill in your e-mail so we can share with you our top stories!