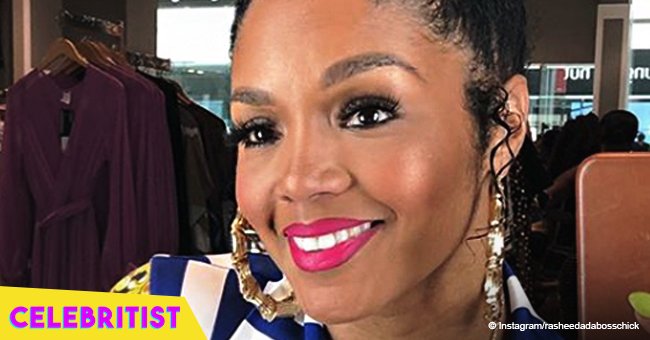 Rasheeda Frost stuns in red maxi dress and colorful turban, posing with son in new photo
The American rapper, fashion designer, television personality, and businesswoman has a busy life running her empire and spending plenty of family time with her husband and children.
Rasheeda Frost of Love & Hip Hop: Atlanta also runs several businesses, and has had plenty of troubles with her husband of almost 20 years, Kirk Frost, following his cheating scandals that have even resulted in a baby.
Despite the infidelity, Rasheeda has stuck by her husband's side through it all.
The couple also has two children together, 17-year-old Ky Frost and 4-year-old Karter Frost. Rasheeda recently took to her Instagram to share a photo of herself and Karter, having a relaxing day together in the July heat.
Rasheeda wore a red loose-fitting maxi dress with short sleeces and a medium neckline. She had a colorful bandana around her short dark hair, a gold crucifix around her neck, and a black, brown, and red handbag over her shoulder.
Karter wore a white t-shirt with a red picture of a wolf on it, and a pair of black and red trousers. He also had on matching sneakers.
"A chill day with a chill lil guy in my chill 2 pocket long dress from pressedatl.com," Rasheeda captioned the image, with a kissing emoji.
Rasheeda recently did a photoshoot for a cover story in The B Collective, for which she wore a bright pink mini-dress with a plunging neckline that showed her bra and cleavage.
She kept things on the safe side by wearing a nude-colored bra and completed the look with a pair of black floral printed pointed toe high heels.
She also wore a silver chain with a pendant on it around her neck, and yellow nail polish on her fingers. She left her blonde hair hanging in loose waves over her shoulders.
For the photoshoot she sat on a tan sofa in some shots, posing at the photographer's instruction.
It was just last year that Rasheeda discovered that her husband had not only had an affair, but had fathered a child with his mistress, Jasmine Washington.
As was revealed on Love & Hip Hop: Atlanta, t was Washington that had outed Kirk for fathering her son, rather than Rasheeda's husband.
Despite the scandal, Rasheeda has decided to stick by her husband. Not all her fans are happy about her decision, especially after a no makeup selfie posted by the television personality made the rounds.
While some praised her, saying that she looked beautiful regardless, others felt she looked stressed and exhausted, and blamed her husband for it, with one use writing:
"I didn't know she was only 36. The whole Kirk situation has been slowly and silently breaking her down, only if she would accept it for what it is and make peace with herself she'll get her sanity back. She's still going to be with him so why fight herself about it. I like Rasheed's, but sometimes us woman will remain so angry at other people it's like drinking poison expecting the other person to die. Just let go and live fr fr!."
Rasheeda has not publicly made a statement regarding their relationship.
Please fill in your e-mail so we can share with you our top stories!