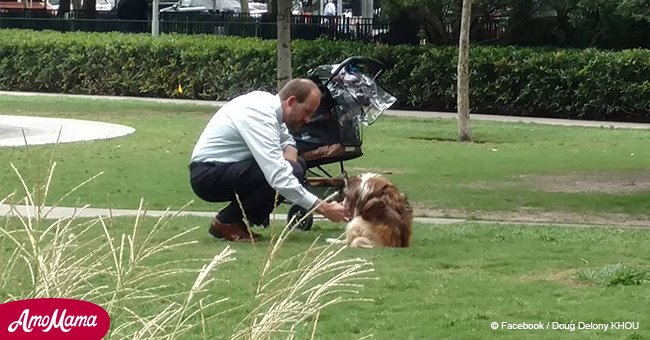 Man takes his disabled dog to the park just to feel the grass

While having a brisk run at the Discovery Green Park in Houston, Doug Delony spotted a man letting a disabled dog to sit in the grass and take in the smell and the sound of the outdoors.
Delony, a digital producer, shared a snap of the touching scene on Facebook.
While jogging, he saw a stroller that had no baby inside and a man bending over it. He found the scene strange and intriguing so he went over to get a closer look.
He realized that the man was attending to what appeared like a disabled dog. The stroller, apparently, was for the dog.
Follow us on our Twitter account @amomama_usa to learn more.
It was later found out that the man's name is Troy Griffin and he lives in a 10th floor apartment across the street from the park.
His aging dog, Max, can no longer walk on his own due to arthritis.
Griffin didn't want this condition to make his dog miss out on all the fun outside. Using a baby stroller, he is able to take Max outside.
Delony wrote on Facebook: "Most afternoons I take a run through Discovery Green, and most afternoons I see this guy with a stroller but no baby. He brings this beautiful... what appears to be... disabled pup to the park. He lets it sit in the grass and take in the smell and the sound."
"Here he is giving it water out of a small cup he brings with him. An adorable dog and a nice guy - God bless 'em."
The post went viral, having been shared more than 1,000 times.
Crystal Mathis commented: "I met this man and his pup coming back from a Discovery Green Concert one night. He says she [is] old and bline and can't get around well but she used to love walks and being outside so he takes her out twice a day."
Please fill in your e-mail so we can share with you our top stories!