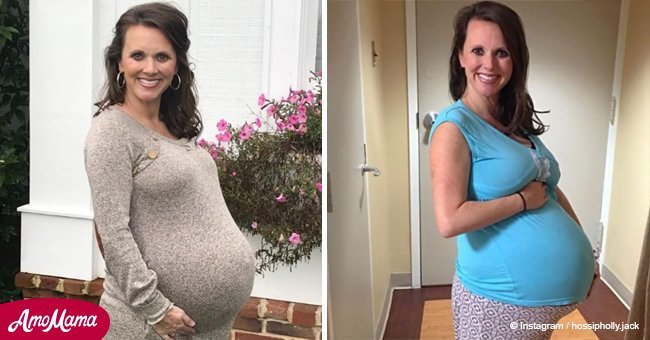 After a painful miscarriage, mom of 3 fell pregnant again and her belly grew even more than usual
Despite a long history of miscarriages, this mother desperately wanted to have more children to add to her growing family, and took any measures she could to carry another child to term.
Middle-school sweethearts Courtney and Eric Waldrop, were already parents to twin sons Wale and Bridge, 5, and an older boy, Saylor, 8. Even though they already had a full house, they had always wanted a big family, and kept trying for another baby.
Because Courtney was always suffering from painful miscarriages, their doctor put them on a low dosage of fertility treatment that was meant to minimize Courtney's chances of carrying multiples.
Somehow, this treatment ended up backfiring. When the couple went for an ultrasound in June 2017, the technicians heard six heartbeats.
The couple was thrilled, but at the same time scared by their history.
Given that Courtney was carrying multiple fetuses, she ran an increased chance of having a c-section, a stroke, high blood pressure, gestational diabetes, and urinary tract infections.
The couple was also afraid they wouldn't be able to carry the babies to at least thirty weeks and the sextuplets would be born preterm and desperately underdeveloped.
Given the fact that there were so many risks involved with having sextuplets, the doctors explained to the couple that they had the option of selective reduction.
The process involves reducing the number of fetuses, and drastically increases the chances of survival of the remaining babies.
Courtney and Eric decided they would let faith guide them and whatever happened, they would accept it. This meant no selective reduction, as they didn't feel they could give up any of their children.
At 11 weeks, Courtney took to Facebook to share her biggest concern: her calorie intake. The mother had to consume a high number of calories on a daily basis to keep herself and the babies healthy.
She wrote on her Facebook page: "Please pray that my appetite will allow me to eat like I've never eaten before."
Thankfully, all went well and on December 11, 2017, the couple shared their news of the birth of the sextuplets, adding that they are all well and healthy.
The boys were named Layke Bryars, Blu Wellington, and Tag Bricker while the girls were named Rivers McCall, Rayne McCoy, and Rawlings McClaine.
Please fill in your e-mail so we can share with you our top stories!