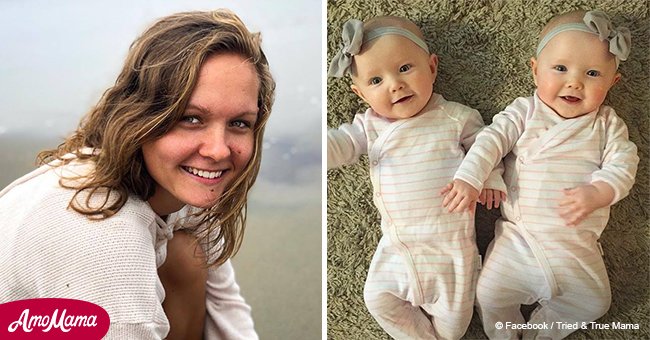 Mom penned heartfelt open letter to stranger who helped console her screaming twins
Molly Schultz, and her then seven-month-old twin daughters, Halen and Lennon, were flying to her hometown to see her dying father when the twins became inconsolable in the middle of the flight when a woman came forward and helped soothe her daughters.
In her thank you note published by Love What Matters, 27-year-old Molly wrote that she was on a Delta flight 1227 on March 3, 2016, from Minneapolis to Detroit, to say her final goodbye to her father.
In the letter, the mother wrote that she along with her twins had already been to Washington from where they had flown to Minneapolis and had had a "ridiculous" layover before they got on board to their flight to Detroit.
Read more on our Twitter account @amomama_usa.
She described in the letter that she was breastfeeding at the time and so she couldn't leave her identical twins at home with her husband, Tim, and their other young daughters Sawyer and Presley.
Molly recounted how the twins had begun to cry inconsolably half-way through the journey because they were not on their usual routine.
She reckoned that the twins were affected by her "frantic energy," and it resulted in their fits of crying.
She confessed that she had distanced herself from the sound of her daughter's crying on the plane as she felt powerless and distressed.
Although she was aware that her daughters were crying because they were hungry and she had to nurse them, she couldn't understand how to do it on a plane. It was at this point that the stranger came to help her.
"You knew I needed you when I was too afraid to ask. I was flying back to the city I grew up in to say goodbye to my dying father and I had no idea when I would return home."
Molly Schultz, Love What Matters, March 3, 2016.
She described the incident saying that the woman sat next to her in the empty seat and began consoling one of Molly's daughters.
Molly handed her a bottle of milk, while the Good Samaritan cradled her daughter and sang a lullaby, "looking her in the eyes."
The grieving mother added that she was ashamed of her incapability to do the same thing for her babies.
However, she felt so grateful to the lady for her help when she desperately needed it. Molly also mentioned that the stranger never made her feel insufficient.
The woman showed her compassion and during, what Molly felt was, the darkest hour of her life.
She sang and swayed with her daughter as if the twin was her one of her own and Molly admired the woman being there for the three of them when they needed someone the most.
Molly confessed that she did not even remember the name of the woman or even what the woman looked like and she wished that she had not forgotten her. She also admitted in the letter that she should have taken a picture of the woman holding her daughter.
Molly went on and thanked the woman for helping her with love and treating her with dignity.
At the end of her message, Molly added that she hoped that the woman could end up reading her letter and remembered her and her twins from their picture on that plane.
Molly hoped that the woman knew and realized that she saved a mother from a severe mental breakdown at 35,000 feet in the air.
Molly's identical twins will be celebrating their third birthday in August 2018. Molly and her husband, Tim, have also adopted her half-brother, Easton, after Molly's father passed away, according to the Daily Mail.
Please fill in your e-mail so we can share with you our top stories!