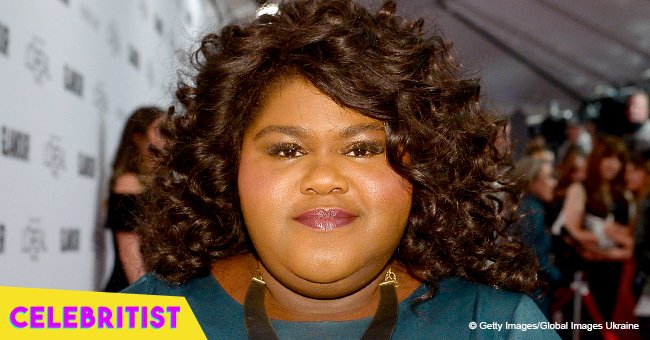 Gabby Sidibe turns heads in simple black dress in photo with Barack & Michelle Obama
Gabby Sidibe was wholly enthralled with Barack Obama in a recent photo shared to her Instagram to congratulate the former president on his birthday.
The "Precious" actress joined several other personalities of Hollywood to congratulate Barack Obama on his birthday last August 4. Showing her love for the former president, Gabby shared a throwback photo on Instagram from a time she had the opportunity to have some small talk with the Obamas.
In the pic, a smitten Sidibe was caught standing in between the couple and giving all her attention to Obama while the former first lady, Michelle Obama, laughed about whatever her husband was saying.
Gabby looked stunning in a simple, yet gorgeous black dress with golden details and a braided updo. She completed the look with long earrings and a light make-up.
While Gabby shared the photo a few days ago, it's easy to see that is an old one, considering the significant weight loss the actress went through in the last months.
GABBY'S INCREDIBLE WEIGHT LOSS
These days Sidibe is rocking a much slimmer figure with upgraded confidence. The "Empire" star underwent gastric bypass surgery in 2017 after being diagnosed with Diabetes at 32-year-old. The actress opened to People magazine about the thought process that led her to the decision.
"I just didn't want to worry. I truly didn't want to worry about all the effects that go along with diabetes. I genuinely [would] worry all the time about losing my toes."
Without holding anything back, Sidibe also addressed the people that always had something to say about her body or her weight hiding behind the excuse of being worried about her health. Gabby left clear that no one cares more about her health and body than her.
"What angers me about what people say about my body is that they assume that they care about my health more than I do. And that is impossible. You don't care. You only care that you have a voice, and you think your voice gets to say something about me. But I care more than anybody really knows. Of course I care. It's been my body my whole life, and I didn't want to be afraid anymore. And I've been feeling like that for some time."
BEAUTY IS IN THE EYE OF THE BEHOLDER
When Sidibe was included in People's issue of the World's Most Beautiful persons after her breakout in "Precious," she didn't take the compliment at heart. Not because she doesn't think she's beautiful ("I'm so beautiful, because I look like my mom, and I look like my dad, and they're beautiful") but because she knew if she weren't an actress, no one would look at her on the street and think: "that woman is gorgeous."
She explained it a bit better saying:
"My entire life, I have been conditioned to believe that I was ugly, from everybody outside of my tribe — from people that are inside of my tribe, at that. […] Like, it's great that you say that, but I can't be convinced that you really believe that; for all I know, you just feel like you need to say that to me. You really don't. Because I got it. I already know. My beauty is like my own secret in this way."
Now 35, Gabby is proud of what she has achieved with her figure, but in 2017, she told ABC News' Robin Roberts that she was actually offended everytime people congratulated her for her slimmed down figure.
"You don't need to congratulate me on it. You don't congratulate me every time I blow my nose. I needed to. It's my body. Mind your own body."
THE PRAISES CAN BECOME MISOGYNIST
Sidibe, like any respected artist, prefers to be praised for her work, her talent, or the way she uses her voice to speak on important issues. For her, the constant praises about her weight loss can easily become misogynist, because no one's is ever congratulating men who go through the same journey.
"We tell women what they need to look like, and what they don't need to look like," she said.
"There are plenty of like fat guys or whatever, and no one has ever written think pieces about why they need to lose weight. No one's ever going to accuse them while they were, you know, on a show promoting their film, that they're actually promoting an unhealthy diet."
In Gabby's book "This is Just My Face: Try Not to Stare," she reveals everything about her weight-loss journey and how she has been dealing with self-esteem issues throughout her entire life.
Please fill in your e-mail so we can share with you our top stories!