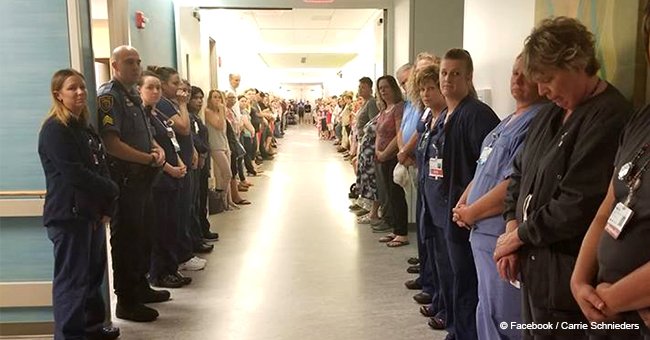 Photo of 'honor walk' given to deceased father of three before organ donation goes viral

This man's decision of becoming an organ donor ended up bringing the biggest source of strength for his family to cope with his sudden death. The way they were honored by the hospital's personnel has gone viral.
Cletus Schnieders collapsed on June 19th as he and his family were having dinner at home. Two days later he passed away at the hospital, leaving her wife Carrie and their three children inconsolable.
While still struggling to accept the unexpected loss of her beloved "Clete," Carrie had to respect her late husband's decision to donate his organs, and little she knew how much love and support she was going to receive with this act.
Carrie took to her Facebook account to share the journey her family went through since Cletus passed away, and how many lives were touched by this incident. Read more on our Twitter account @amomama_usa.
She shared a picture of more than a hundred employees from the hospital where her husband was declared dead standing in the hallway to acknowledge the kindness of the family with an "honor walk."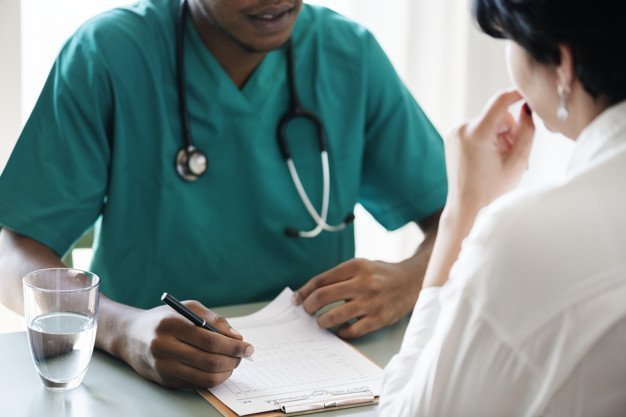 Source: Freepik.
"The honor walk was so overwhelming with all of the people who came out to support Clete. I can't believe how many people care about us. The nurses said this is the biggest crowd they have ever seen," Carrie wrote.
By the time she published her message on Facebook, she wasn't sure if any of the organs from Cletus were really going to end up being transplanted, but she was going to find out about it soon.
"If they are able to use any organs he will be 1 of 100 people that are actually able to- which means Clete will live on through others," she added.
As Scary Mommy reported, Cletus's decision to donate his organs ultimately saved three lives. His kidneys and liver were successfully transplanted to people who couldn't have to go on with their lives if it weren't for this man.
As Carrie's emotional post rapidly became a viral phenomenon, she started to receive numerous comments from people all around the world, praising her for her husband's organs giving others a second chance, and wishing her strength.
"The first several nights I was getting messages from all over the world, even Australia," Carrie told the news outlet.
"One man, in particular, reached out to me from Oregon, he wanted to thank me and Clete […] he received a liver transplant and was able to watch his grandchildren grow up. That story really hit home since Clete also donated his liver," she said.
"Recipient stories were honestly the only thing keeping me going after those first few days of losing Clete," she admitted.
The days after Cletus died and donated his organs, in the middle of the family's grieving for their lost, an idea grew in Carrie's mind out of her will to look further into how far her husband's donations impacted the life of others.
The day of Cletus's funeral, his widow contacted LifeCenter, an organization from Cincinnati that offers assistance for people in need of a transplant, asking them to help her find the man who received her husband's liver, John Mock.
When LifeCenter localized Mock and reached out to him, they found that the recipient of Cletus's liver was as interested as Carrie in a meeting between the two families.
"I wanted to thank this family for saving my life — I would be dead without them — and offer my condolences," Mock told Yahoo Lifestyle. The meeting took place less than a month after Cletus passed away.
"After the first two minutes, it felt like we had known each other forever, just like a real family," Mock said.
Please fill in your e-mail so we can share with you our top stories!