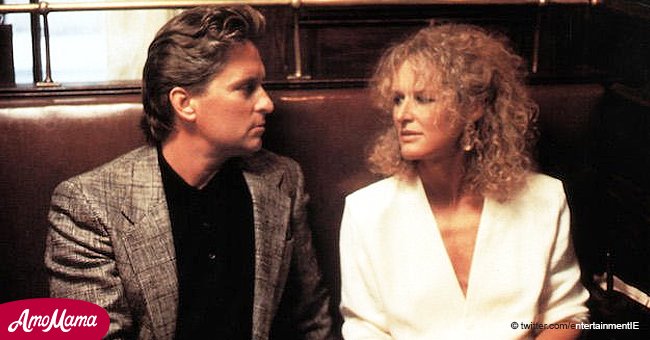 Here's how Michael Douglas and Glenn Close from 'Fatal Attraction' reunited after 30 years
Last February, the stars of the psychological thriller "Fatal Attraction" reunited after 30 years. Michael Douglas and Glenn Close met up during one of her plays.
The actor had come with his wife to support Close's musical on Broadway. The two even took some selfies and posed together for the paparazzi.
This year marks 31 years since the 1987 film "Fatal Attraction" came out. The movie even coined the term 'bunny boiler' to describe an obsessive and spurned woman.
However, last year, the stars of the film, Michael Douglas and Glenn Close, reunited backstage at her musical called "Sunset Boulevard. "
For more on this story go to our Twitter account @amomama_usa. Close was barely recognizable in her theatrical makeup as washed-up silent movie star Norma Desmond.
For their pictures together, the actress posed in a personalized robe and wore dramatic purple eyeshadow and a deep red wig. Douglas kept things simple in a black gold t-shirt and leather jacket.
His wife, Catherine Zeta-Jones joined him at the show and opted for a black and cream floral dress to compliment her husband's look. "Fatal Attraction" made a name for itself when it came out.
In the film, directed by Adrian Lynne, Douglas plays married lawyer Dan Gallagher who has a fling with publisherAlex Forrest played by Close. Things take a sinister turn when Forrest becomes obsessed and clingy.
In the movie, she slits her wrists and tells him she's pregnant and famously boils his pet rabbit alive. During an Entertainment Weekly reunion special the actress discussed the infamous scene.
"The bunny was the one thing I had a question about," she shared.
She revealed that she actually took the script to a psychiatrist and asked if the behavior was possible and was told it was.
That's when the character became "very interesting" to her. She shared that, '"I had a huge empathy for that character by the end of the process."
Her role won her an Academy Award nomination for best actress, but she controversially lost out to singing star Cher for her performance in "Moonstruck."
Please fill in your e-mail so we can share with you our top stories!