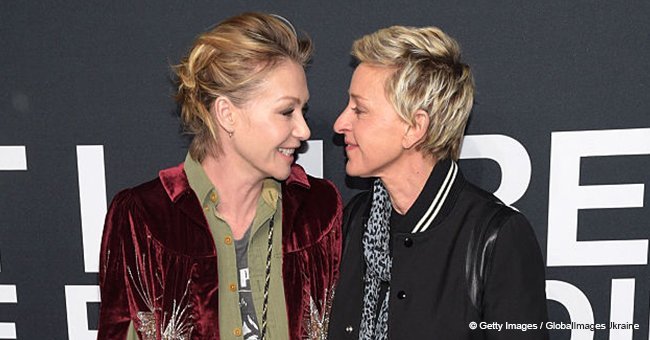 Here's why Ellen DeGeneres and Portia de Rossi's marriage is successful and happy

Ellen DeGeneres and Portia de Rossi celebrated their ten-year anniversary. It would have been longer if not for the illegality of marriage for same-sex couples before 2008.
Since then, the two have persevered, becoming America's sweetheart couple. What has kept them going? The story of how they came together sheds light on their unbreakable bond.
It was way back in 2004 that de Rossi noticed Ellen. She told The Advocate what DeGeneres took her breath away.
At that time, de Rossi was still private about her sexuality, not to mention she was in a relationship with director Francesca Gregorini. Follow us on Twitter for more @amomama_usa
She overcame the challenge of coming out by force when a photographer revealed that the couple was together. Though de Rossi was not fully prepared, she appreciated the invasive action to a large extent.
She says in the interview:
"She forced me to come out to my family, she forced me to live a more honest and more open life."
The next part of her journey was just as difficult and De Rossi admitted that from the time since she had seen Ellen earlier that year she "never [...] stopped thinking about her."
She described the emotions that often elude us, indicating to readers what appeared to have been love at first sight: "My knees were weak. It was amazing. And it was very hard for me to get her out of my mind after that."
DeGeneres was dating photographer Alexandra Hedison at the time, but once de Rossi and DeGeneres spoke again at VH1's Big in 2004, that was it for both of their former halves.
By the start of 2005, the two became an official pair. DeGeneres opened up to People Magazine in November that year and confirmed the deep connection the pair shared.
She added that it was the first time she knew "in every cell of [her] being" that she wanted to spend the rest of her life with someone.
DeGeneres echoed the sentiments about her difficulties breaking off things with Alexandra. She said it was "a tough decision" and that she was "physically sick."
Years later in 2016, de Rossi said that they are really good friends and "talk about everything." They never lie to each other. She added:
" She's my best friend. I just want to be with her all the time."
Still, over the years the tabloids have bombarded the Hollywood couple with assertions and often disrespectful stories relating to their relationship.
Most recently in May, Gossip Cop investigated the claim that the couple's marriage was on the rocks. Both DeGeneres and De Rossi took the high road and ignored the claims.
One just might want to take a page or two out of the happy couple's book.
Please fill in your e-mail so we can share with you our top stories!