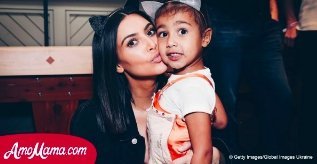 Kim Kardashian's daughter's dress sparked public outrage for being 'inappropriate' for her age
Comments pour in from fans and followers about the dress that Kim and Kanye's daughter North was seen wearing.
Little North West's outfit sparked outrage over social media, with plenty of people deeming the dress wholly inappropriate for her young age.
North West was photographed in New York City in July 2017, and there has been a lot of debate about what the 4-year-old was wearing.
The photograph showed a peach and white dress, with the white section featuring ties all the way down. While North looked confident and comfortable sporting the look, the social media audience had different views.
Many felt that the top half of the dress closely resembles a corset. And many trend-watchers online found the style unsuitable for a toddler.
One of the users on Instagram was amazed that Kim would let her child be dressed that way. This opinion echoed among many others, calling on Kardashian to let her eldest daughter wear normal children's clothes.
The talk around this dress escalated quickly.
One of the users even commented that with the sleazy way North is being dressed up, it would be no surprise if she soon started to undergo cosmetic enhancements, too.
Many people expressed that while North was indeed cute, but that corsets are something that should only ever be worn by adults regardless of the circumstances.
On the other hand, quite a few social media users didn't feel that there was anything wrong with the child's dress.
They offered an explanation that the dress North was wearing had a different style, and was definitely not a corset.
Kim herself shared a video on Twitter offering clarification.
She explained that she would never consider dressing her daughter up in a corset, and gave an explanation of the dress, as well as close up photographs of the garment on a hanger to show everyone that there was no corset involved.
"This dress that I did not design, I actually bought, is not a corset it's just fabric on the front. So, I think it's really cute, I bought it from a designer and it's just fabric people, it's not a real corset," she said.
Please fill in your e-mail so we can share with you our top stories!