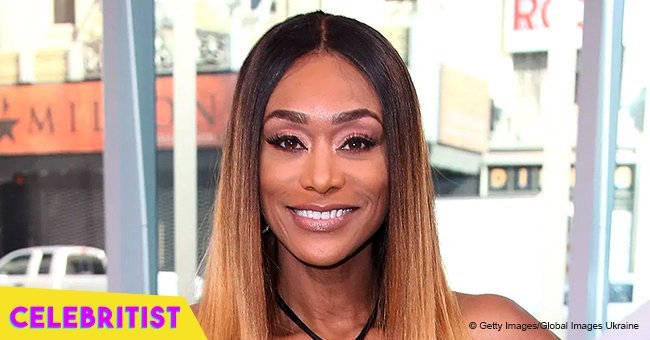 Tami Roman puts cleavage on display in low-cut mini-dress after significant weight loss
"Basketball Wives of LA" star, Tami Roman is not afraid to flaunt her new body, despite the hurtful comments being thrown her way on a daily basis. As usual, Roman has a message for those who have a problem with her body.
Blunt & Fearless is what comes to mind when most people think of Tami Roman. In a recent photo shared on Instagram, Roman had no qualms telling followers the "bravest thing" she has ever done. Pictured in a plunging neckline mini-dress and platform-heeled sandals, Roman wrote:
"The bravest thing I've ever done is learn to stand still and let God MOVE"
Roman could be referring to the constant body-shaming she has been experiencing since she embarked on a weight loss journey. Apart from getting mean comments from internet trolls, the 48-year-old also had to face cruelty from her "Basketball Wives" co-star, Evelyn Lozada.
In one of the show's episodes, Lozada picked a low comeback point during a heated argument: Roman's weight. In addition to likening Roman's legs to candlesticks and spitefully advising her to fill up on vitamins, Lozada fired:
"You need to worry about your health. …You're looking like a crackhead these days. Focus on doing the squats."
Hurt and offended, Roman opened up to another cast member about her struggles with diabetes and how the condition demands she keep a strict diet:
"I'm a diabetic, okay? So for me my weight is very serious. I finally decided to take charge of my [expletive] life so that I can live for my kids and my man, and so because of that I lose weight. I'm 48 years old. You know what I'm saying? So this is how my body reacts to me making proper choices with my diet."
The mother-of-two then went to Instagram to address the issue bluntly. Sharing a photo of herself in a trendy jumpsuit, the "bonnet Chronicles" comedian retorted:
"I didn't lose weight, I lost my willingness to die. DIABETES IS NO JOKE! I Detox, suppress my appetite and make better food choices. So enjoy yourself laughing, leaving negative comments & calling me a "crackhead"...but I have two beautiful daughters and I'm gon' live for them by ANY means necessary"
Please fill in your e-mail so we can share with you our top stories!