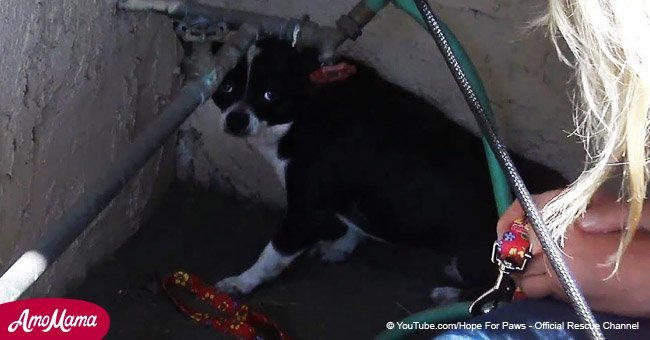 Terrified little dog's emotional rescue caught on camera
A homeless dog was spotted cowering in a neighborhood next to a busy street, and the neighbors feared that he would get hit by a car, so they got in touch with JoAnn Wiltz and Lisa Arturo from the Hope for Paws foundation to rescue him.
A video uploaded by Hope for Paws on YouTube on July 20, 2018, showed the scared dog hiding in a yard of one of the houses in a Los Angeles neighborhood. The dog was so frightened that he was even trying to avoid looking at his two rescuers.
Wiltz and Arturo fenced off the area around the dog to stop him from running away and slowly approached him.
Read more on our Twitter account @amomama_usa.
One of the two rescuers sat down right next to the dog to calm him down and gain his trust. The dog seemed very nervous and did not even look at the rescuers in the beginning.
The women then started to talk to the dog soothingly and showed him what they wanted to put around his neck. They were successful in gently slipping the leash around the dog's neck.
The dog, whom the rescuers later named Han Solo, still looked terrified and apprehensive, now staring at his rescues the whole time.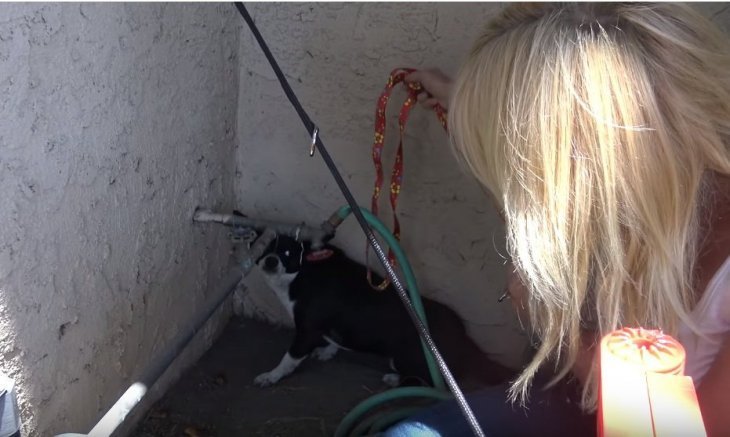 Source: YouTube / Hope For Paws
Next, one of the rescuers, Arturo, took a blanket and slowly wrapped it around Han Solo, and there was a visible change in the dog's behavior towards the rescuers.
Arturo then lifted the dog up from the corner of the yard that he was huddled in and carried him safely in her arms towards their car where she placed him in a cage.
The dog seemed to relax a little more once he was safely tucked in the woman's arms.
Solo was taken to the vet as soon as he was rescued to get cleaned up and checked. He still seemed a little overwhelmed, but he was not as frightened as he was when Wiltz and Arturo first found him.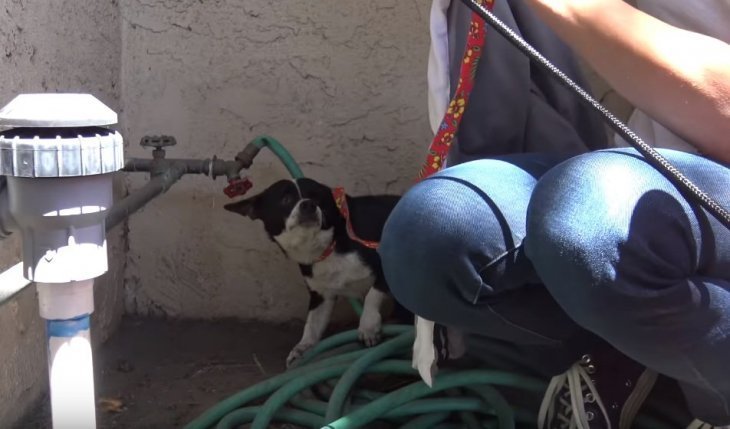 Source: YouTube / Hope For Paws
Solo's rescuers found no microchip after he was scanned and so he was given to PAL Rescue which settled him down with a foster family, according to the Dodo.
The video also showed Solo's running around happily playing at his foster home. He does not seem so scared of people anymore and has become a friendly dog waiting to be adopted into a forever family.
Similarly, a baby monkey, who was saved from an illegal street vendor in China, was so frightened that it continued to hold the hand of his savior and caretaker.
New China TV posted a video on YouTube, which showed the baby Assamese macaque tightly holding on to the caretaker's arm after being rescued in southwest China's Yunnan province.
The baby monkey belongs to a rare species which is listed by the IUCN as Near Threatened since 2008 and is under state protection in China.
According to the video, local wildlife center said that the monkey would be sent back to the forest after it has grown enough.
Please fill in your e-mail so we can share with you our top stories!