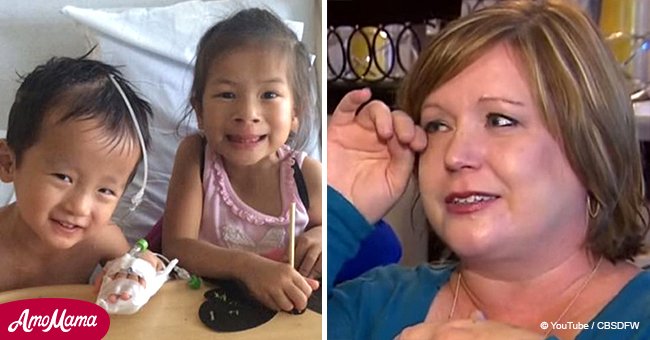 Chinese orphans who grew up together reunite after adoption (video)
Dawson and Hannah are two Chinese orphans who grew up together in China. They were inseparable at their orphanage and even called each other brother and sister.
Then Hannah got adopted to the US and her friend was left by himself. However, the girl's new mother couldn't stop thinking about the little boy after finding out about their bond and chose to do something.
Hannah, 4, and Dawson, 3, grew up relying on each other at an orphanage in China where they had essentially spent their entire lives. The two even children shared the same "weekend momma," or foster mother, who would spend time with them on weekends.
They had been at the orphanage since they were just months old. The two children were inseparable and each other's best friends.
For more on this story go to our Twitter account @amomama_usa. As Sharon Sykes went through the adoption process to get Hannah, she became aware of the little girl's close relationship with Dawson.
In nearly every photo update the family received from their adoption agency, their daughter Hannah was next to her best friend. The two were always playing together and always holding hands.
Bringing the little girl home to North Texas meant leaving her best friend behind. Sykes became determined to find Dawson a loving home and shared his story on Facebook.
"He was on my heart. Really, I couldn't stop thinking of him," she said. "They had so little connection, and so little consistency, [but] they had each other for those first formative years," Hannah's mother explained.
Through a mutual friend, Amy Clary learned about the Facebook post. While having dinner at a Chik-fil-A with her family she made the decision to adopt the little boy.
Her husband Christopher joked that the decision was made by the time he came back into the restaurant from the play area.
"I was gone for 45 seconds, maybe it was two minutes, and then [she] said, 'We're adopting this little boy.' I just said okay," explained Christopher.
Despite having a full house with three kids under the age of five, they managed to open their hearts to Dawson. A 17-second video showed the sheer joy shared by the two best friends as they were reunited at Dallas-Fort Worth International Airport.
The pair was seeing each other for the first time in 11 months.
"They must have hugged 400 times. They kept hugging and getting so giddy that they would fall over," Amy said. "That went on for like 20 minutes," added Sharon.
Nearly a year later, Dawson and Hannah picked up where they left off. This time, they're neighbors with their families living about five minutes away from each other.
"It's not really what we're doing for these kids. It's what they're doing for us," Andy shared. "You think you're doing something for them, and our lives have been so blessed," Sharon concluded.
Please fill in your e-mail so we can share with you our top stories!