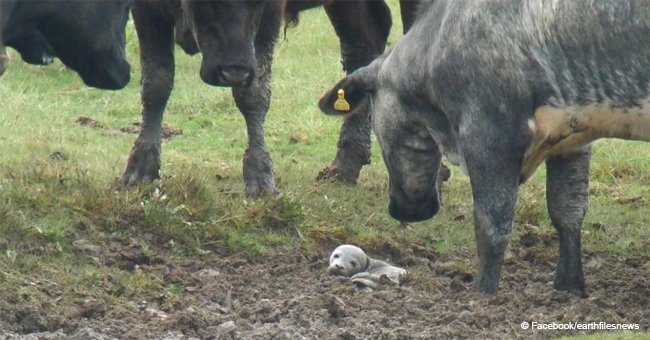 Man finds unusual 'calf' among herd of cows in a pasture and snaps a viral picture
Birdwatcher Ian Ellis noticed a five-day-old seal surrounded by a group of cows in a field. He took a photo of the scene which quickly went viral.
Ellis, from nearby Boston, saw the 30-strong herd of cows behaving oddly at a bird sanctuary on the banks of The Wash in Lincolnshire, England in 2015.
Through his telescope, he noticed that they were surrounding a baby seal.
When Ellis went closer, he realized that the seal's mother was nowhere to be found.
He then talked to the reserve wardens and the Natureland seal sanctuary in nearby Skegness.
The Natureland experts told him how to move the seal carefully as they sent workers to collect the poor animal.
Along with Toby Collett, a staff warden, Ellis picked up the seal and took her to safety away from the cows.
"We think she got separated from mum and got caught in the tide and then became stranded when the tide went back out again," said Richard Yeadon, the Director of Natureland.
"Cows are quite inquisitive, so they were pushing her around a bit, so she wasn't hurt at all. Once we got her back to Natureland, she went straight into the Seal Hospital to begin treatment."
Yeadon added: "Her main problem is that at only five days old she was orphaned and therefore had not fed for a while, she had lost quite a lot of weight and was dehydrated."
The baby seal was recuperating well at the center and was released into the wild when she reaches around 60-70lbs.
The lucky pup, which is a harbor seal, was named 'Celebration' to mark the Skegness Natureland's 50th anniversary.
Natureland has helped to rehabilitate over 700 seals back into the sea in the past five decades.
Please fill in your e-mail so we can share with you our top stories!