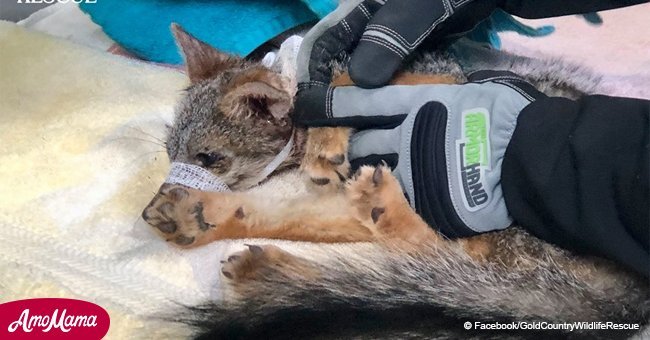 Fox with jar stuck on its head rescued by good Samaritans
The poor animal was found wandering around, trying desperately to remove the plastic cage she had unwittingly put her head into.
A fox in Georgetown, California, was rescued with a plastic jar stuck on her head. She was skin and bones, and incredibly weak after not being able to eat for however long the jar was there.
Two volunteers from the Gold Country Wildlife Rescue and found the fox and rescued her, taking her to the rescue center to be treated. There, the jar was carefully removed and veterinarians worked hard to try and save her life.
Before taking her in, the fox was recorded walking around helplessly in an effort to raise awareness of the dangers of human trash lying around.
The rescue center was desperately asking for donations in an effort to help the fox with the medication and sustenance she would need to be provided before she could be released back into the wild.
She was not only emaciated, but was also infested with maggots after her ordeal.
"Here we go again with human garbage harming wildlife. Volunteers Ben and Laura just captured this fox in Georgetown, CA, with a plastic jar stuck on its head. [...] We will do our very best to save its life," Gold Country Wildlife Rescue wrote.
They carefully removed the jar before starting treatments for the fox, and just two days later her health had already drastically improved from when she was brought in.
The wildlife rescue center shared another photo of her, looking much healthier and happier to their Facebook page.
"The Jar Head Fox is improving! She is still in very guarded condition due to starvation and infection, but she is definitely stronger and eating the admittedly boring critical care diet. We definitely see good signs!" they wrote.
The discovery of the fox came just weeks after residents in a nearby area found a coyote with a jar stuck on its head.
Please fill in your e-mail so we can share with you our top stories!