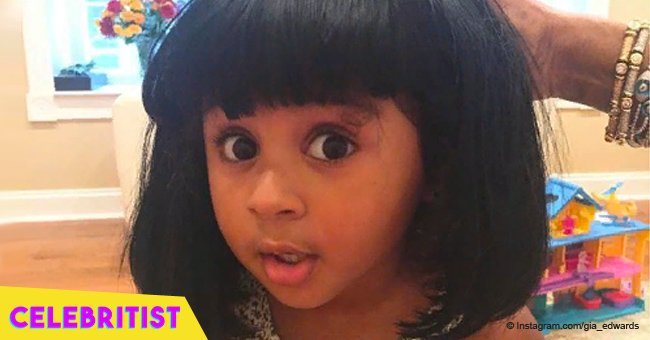 This little cutie has a grandma who's a legendary '80s soul singer & is a sassy beauty at 74
A music legend of the '80s has a lovely granddaughter who is very cute and graceful. The little girl is very much loved by her grandma, who has not ceased to show her admiration for her mini star.
Three-year-old Gia Patricia Edwards is already stealing hearts left and right with her charming smile. Her cute and lovely photos, which are abundant on her Instagram page, have attracted an impressive number of followers.
Gia gets her infectious smile from her grandmother, Patricia Louise Holt-Edwards, professionally known as Patti LaBelle.
The veteran singer, songwriter, and actress has been in the industry for almost five decades, but she still has soul music lovers addicted to her lovely voice.
The 74-year old rocked the 70's and 80's with her group LaBelle, where she was the lead singer and frontwoman.
Gia is the daughter of Zuri Kye Edwards, the only child of the music veteran with her ex-husband Armstead Edwards. The 44-year-old is also his mom's manager.
He and his wife Lona welcomed their bundle of joy back in February 2015.
LaBelle is very passionate about her "mini star" as she has not ceased to share photos of the little girl with the world. She has also made some stage appearances with Gia on stage.
The adorable girl loves to dress up and take pictures, and in a recent photo shared by her grandma, she's proving that the taste for fashion runs in her veins.
Wearing a Celine t-shirt, denim shorts, gladiator sandals and a dazzling black hat topped off with a Saks 5th Avenue bag, the little girl stole hears on LaBelle's Instagram page.
"My stylish little mini diva, Gia is just too cute and fierce!" the iconic singer captioned the pic.
Gia also tried to imitate Patti's hairstyle by rocking a short wig that she probably stole from the singer.
"My granddaughter @Gia_Edwards loves to try on wigs!," Patti shared with her fans.
The little girl is a star in the making, and she's just as charming as LaBelle.
Please fill in your e-mail so we can share with you our top stories!