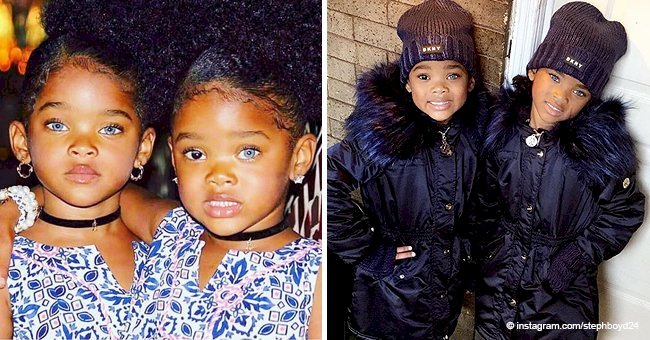 When they were smaller they were named "the most beautiful twins in the world." See what they look like now
It is easy to see why these two children, Megan and Morgan Boyd, earned the title of the "world's most beautiful twins." They have changed with age, but their beauty remains intact.
These two gorgeous little girls stole the hearts of many Internet users. As InStyle reported, their eyes captivated the whole world, and the sisters don't cease to catch the attention of the media.
Megan and Morgan were born in 2013, and as they started to grow, they turned into one of the most widespread viral phenomena to come out of Instagram until now. Read more on our Twitter account @amomama_usa.
The Boyd sisters are certainly beautiful in every aspect, but there is a specific physical attribute on them that immediately stand out. We are talking about their impressive blue eyes.
The Philadelphia-born twins became a sensation when their pictures posted to their mother's Instagram went viral really fast, with the account gaining more than 121.000 followers.
It is easy to understand why their looks appealed to so many people because nobody can deny that they have a quite unique appearance. Apart from being adorable, they really distinguish themselves from the rest.
According to the source, the twins's mother, Stephany, admitted that both Megan and Morgan are aspiring models, and they already have a lot of practice posing for the camera.
The mother also explained that the girls actively take part in the decision of which outfits they will wear for their photo shoots.
As Monagiza reported, the twins's close relatives say that their love for modeling came naturally for them, long before they became Instagram and Youtube celebrities. They always enjoyed having all eyes on them.
While Morgan's favorite thing was to pretend to be walking down the runway, Megan was always particularly fond of getting her hair done and trying on new clothes.
But even though they will undoubtedly grow up to be world-famous top models, they are still just to normal six-year-olds that innocently enjoy their social media stardom.
Please fill in your e-mail so we can share with you our top stories!