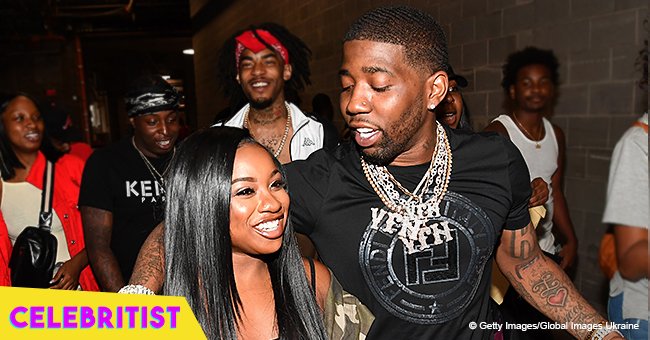 Reginae Carter and boyfriend YFN Lucci slammed for 'disrespectul' video at the church
Internet users slammed Reginae Carter and her boyfriend YFN Lucci for filming a video in a religious place as they took Reign Rushing to church.
After Reginae, Lucci, and Reign attended a church service over the weekend, they were slammed for being "disrespectful." Given that they were in a church, people on Instagram thought that filming the video was inappropriate since they were in a place of worship.
The video featured Reginae taking care of her little sister, with the two of them sharing smiles while listening to a pastor preach. While the two of them looked happy to be together and both looked adorable in their Sunday outfits, it wasn't just this that people noticed. Given the sermon that was going on while the video was being taken, people called them out for being disrespectful and not listening to what was being preached.
Fans expressed their disappointment through The Shade Room's comment section, saying how inappropriate it was for them to be filming.
"@twashington4230: Ok this is beautiful but you guys are recording while in church"
"@slimladyj1989: Wow doing a video while the Preacher is preaching..... well somebody is not hetting the message. Thats is simply rude in The house of the Lord!! Nothing is sacred anymore! Where are your Morals!!!!!!"
"@konigin17: Dude couldn't put his phone away for 4 hours , sheeesh"
While they received some backlash for the video they posted, there were also fans who decided to defend them and explained that they are simply "living".
@sostewar: Some people will ALWAYS go toward the negative. Give them NO energy"
"@aishia2you: Do it matter why they recording in church dang can they live and be great without so much negativity"
Reginae has been doing an incredible job helping her mom Toya Wright in taking care of her little sister, and the trio has been spending a whole lot of time together as they can't get enough of Reign.
Reign Ryan Rushing was born on February 8, 2018, and Toya shares her daughter with her current boyfriend and baby daddy Robert Rushing. Meanwhile, Wright shares Reginae Carter with her ex-husband Lil Wayne whom she separated from in 2006.
Please fill in your e-mail so we can share with you our top stories!