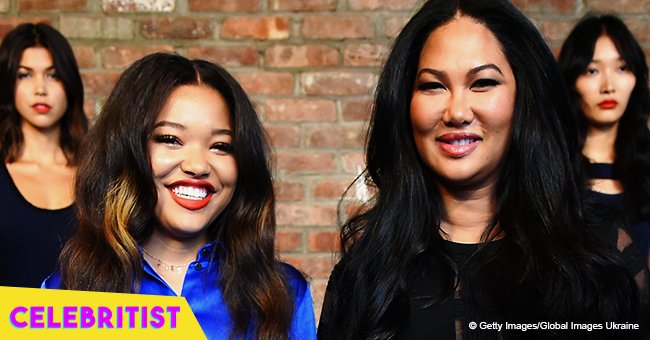 Life's too short to have boring hair,' Kimora Lee Simmons' daughter debuts rainbow hair
Ming Lee Simmons is starting to become a style icon like her famous mom, proving that she was what it takes to pull off having rainbow-colored hair.
Now that she is out of high school, Ming Lee can do whatever she wants with her hair as she is finally free from the usual rules that private schools impose. Of course, you can expect nothing less from a young girl that's heavily influenced by a style icon but for her to have rainbow-colored hair.
The 18-year-old debuted her gorgeous hair on Instagram recently, saying: "Life's too short to have boring hair.".
In June, the lovely model graduated high school at the same time her mother, Kimora Lee Simmons, got her college degree. During an interview with the 43-year-old model, she shares how her graduation experience has been.
"It's been a whirlwind. Well, Ming Lee says I stole her light. She's upset to have to share it with me, but it's a great example of setting an example for yourself and your kids. When they say you're never too old to go back, it's true. No matter what situation you're in, it's possible."
Kimora graduated from the University of Hartford in Connecticut with a Bachelor of Arts degree in Business and Entrepreneurial Affairs. She shares that during her most challenging moments in school, she leaned on Ming Lee, 18, and her other daughter Aoki, 16, to make it through.
"My daughters would help me format my papers. They helped me with the formatting and laying it out. I've had pure breakdowns on my Instagram Lives. They've helped me overcome that, and as a parent, I'm there to encourage them, to help push them and being there for when they stumble. I want that to be the message that in the last few months, I've dealt with school bullies, long nights, writing papers and everything else in our lives. I was doing this for me though. I was doing it for myself and it feels good."
Kimora, who is the former Phat Fashions CEO, is also mom to Kenzo, 9, whom she shares with Djimon Hounsou, and Wolfe, 3, her son with husband Tim Leissner. As for who inspired her to get back to school?
"I did this for myself and I did this for my kids. I believe in continued education and I think there are a lot of different ways you can go about it … I think it taking 20 years and having four kids made it even more fulfilling to me."
Congratulations, Kimora and Ming Lee!
Please fill in your e-mail so we can share with you our top stories!