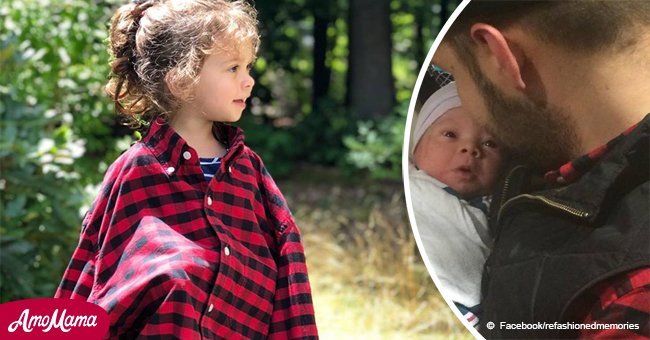 Mother makes cute dress for young daughter out of shirt dad wore to her birth

Like most mom, Carli Grant was forced to get creative when it came to raising her kids. In this instance, she did some DIY'iny to save money on her daughter's clothes and it turned into a lasting bond between father and daughter.
People shared the story of Carli, 25, who decided to buy herself a new sewing machine and revamp some old clothes for her 2-year-old daughter Amelia and her 4-month-old Elliot. When she got to one particular piece of clothing from husband Josh's closet, things took a tearful turn.
Carli saw the red and black flannel shirt that her husband had worn the day Amelia was born. She took it and sewed the item into an adorable dress that Amelia put on before her dad came home.
Follow us on Twitter for more @amomama_usa.
When Josh arrived, Carli asked him if he recognized the new dress Amelia wore. His eyes opened wide as he remembered the history of his old flannel shirt. He said, "That is adorable!" Then picked up his daughter "and told her how pretty she looked."
Carli said that while making the dress she "had so much glee."
She continued:
"To see it on her when I had finally finished, I had tears in my eyes. I couldn't stop smiling. To see her in it, I wanted to make her whole wardrobe out of his clothes. It was so cute!"
Carli said that Amelia is "obsessed" with the dress and chooses to wear it all the time.
Josh later suggested that his wife turn her skill into a business. Wanting to spread the love Carli says "he just wanted to make it for everyone possible."
When the couple took photos of Amelia in what they dubbed the "memory dress," the internet welcomed the idea and began contacting the Grants.
Carli created her business and named it "Refashioned Memories." She says that "People loved the idea!" On a daily basis, she receives no less than three custom orders for memory clothes.
Carli did not anticipate the success of her business. But luckily, she has a passion for what she does for families around the country. She said:
"I just love making my kids clothes, I was sewing for Elliot before he was born."
Carli delivers pillows, blankets, dresses and even baby rompers. She hopes to offer boys' clothes in the future.
Coco Austin is another mother who loves to see her little girl in cute outfits. Back in May 2018, she posted a photo of daughter Chanel striking a pose in a colorful dress and matching heels.
Please fill in your e-mail so we can share with you our top stories!