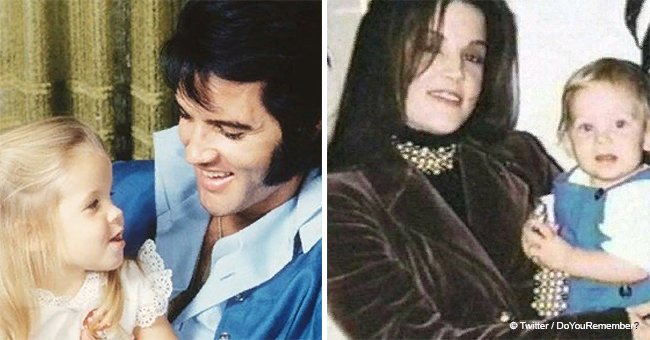 Elvis' grandson is all grown up and looks exactly like his grandfather
Elvis Presley left such a solid mark on his family and fans' lives that his memory and legacy will perhaps go on to live forever.
Although the King has been gone for many years now, he lives on through the daughter he and ex-wife Priscilla Presley welcomed together: Lisa Marie Presley, and her children.
Lisa Marie is the female version of her father in terms of looks. Now, her four children have gained attention as people started to notice that they also inherited the King of Rock N' Roll's staple features.
Of all of Lisa's four children, her son Benjamin Keough stands out the most, and is regarded as Elvis' near-exact copy.
At 25 years old, he looks exactly the same as a young Elvis did, sporting the same sultry expression.
He has the same blue eyes and the trademark pout. However, he has a lighter hair color compared to his grandfather's jet black hue.
But much to fans' dismay, just like his mother, Keough prefera to have a more private life and has opted to stay away from the spotlight whenever possible.
Meanwhile, Lisa Marie has also acknowledged the uncanny resemblance between her father and her son. In fact, she confessed that she feels as if she is looking at her father every time she glances at her son.
In past interviews, Elvis' only daughter claimed she is amazed by the resemblance.
Recalling a night at the Opry, Lisa Marie said that Keough caused quite a stir as he turned heads at the event. She shared that he was even mobbed by quite a number of people who wanted to take photos with him all because of the family resemblance.
As for his career, Lisa Marie has said that she lets him do his own thing, preferring to let him lead his own life and choose wants he wants to do with it.
Elvis fans are likely hoping that Keough will be following in his grandfather's footsteps to give them the second coming of the King.
Please fill in your e-mail so we can share with you our top stories!