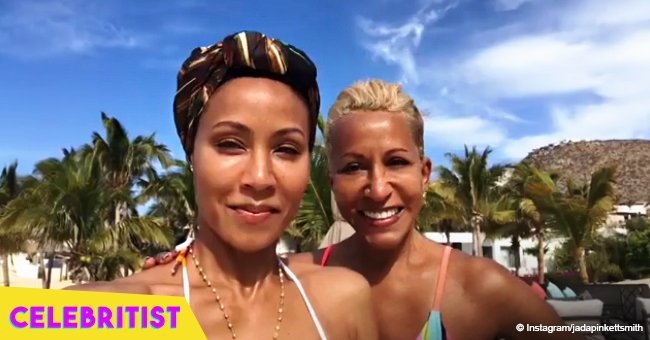 Jada Pinkett-Smith's mom, 64, proves she's still got it in recent workout video
Jada Pinkett-Smith's mom Adrienne proves that age is not a hindrance to staying fit and healthy, as she shared a video of herself working hard at the gym.
When she's not a co-host to her daughter's hit Facebook show called "Red Table Talk", the 64-year-old is working hard at the gym. She is in impeccable shape, and this is all because of the rigorous fitness regimen that she does religiously.
Adrienne gave her Instagram followers a peek of this regimen earlier this week, posting a video of herself doing some strength training. Doing some upright dumbbell row reps with her trainer Charles Harris, the star looks unfazed at what she is doing.
Seeing the post on Instagram, her daughter reposted the video saying "Why is Gam Bam putting me to shame???", shocked at how her own mother seems to be fitter than her.
Her followers were delighted to be given some information on her fitness routine, as she has been quite mum about it through the years despite clearly being in great shape. Who could ever forget the stunning two-piece bikini photo she posted earlier this year? At 64, Adrienne has abs that some younger people could only dream of getting.
However, this body transformation did not just happen this year, as Adrienne has been extremely fit for years and has not been afraid of flaunting it. A few years back, Jada posted a photo of her mom emerging from the ocean in a tiny bikini. Here, she did not only show off her rock-solid abs but showed off her own version of sex cuts.
When asked about her mom's fit frame, Jada said that she just wished her mom had passed on those fit genes to her.
"Yeah, she rocks one better than me. And you know when your own mother can put you to shame, I'm like, I don't know if I gotta get back in the gym. I don't know what I gotta do. I just told her, I said, 'All that right there, just make sure you passing all those good genes down here.'"
Although she's been sharing how her mom seems to be fitter than her, that doesn't mean that Jada herself isn't fit. In her latest vacation with Will Smith and their children, she proves that she, too, has an excellent body, and has been working hard to keep it that way.
Please fill in your e-mail so we can share with you our top stories!