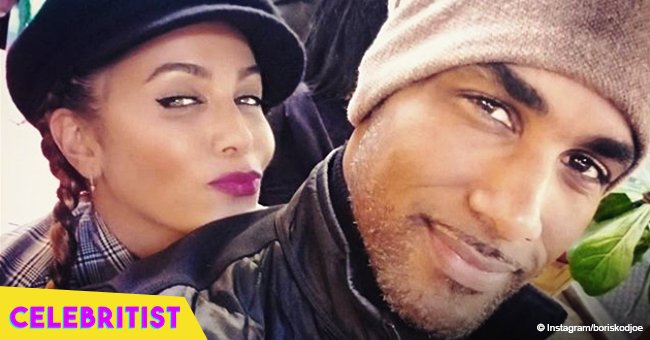 Boris Kodjoe shares photo of his beautiful teenage daughter hanging out with furry friend
Boris Kodjoe shares a photo of his beautiful daughter cuddling with their pet while outdoors, proving how big dogs are not as dangerous as people think.
Trying to raise awareness about bigger dog breeds like German Shepherds, Boris let his followers know about how these gentle giants can be such sweethearts if they are trained well. In the photo, their dog Max was sitting beside his teenage daughter Sophie, playing with a tennis ball while out on the field.
"They aren't dangerous if you train them right, and neither are dogs. #NationalDogDay #MaxAndSophie #KodjoeDog #TrainedBothOfThem #OneListensBetterThanTheOther #OneIsAblackGerman #TheOtherIsAfricanAmericanGerman #TheyLoveEachOther"
Adding some humor to his post, Kodjoe seems to have not just been referring to their dog in his post, but his daughter. Joking around about how teenagers aren't dangerous when they are trained right, he added the hashtags "#TrainedBothOfThem #OneListensBetterThanTheOther #OnIsAfricanAmericanGerman."
When Sophie was much younger, Boris Kodjoe and his wife Nicole Ari Parker opened up about her condition called Spinal Bifida, a rare spinal cord birth defect. During her earlier years, she needed round-the-clock catheterization for her bladder, and must be diligent regarding her potty breaks.
According to an article that the couple had with People, Nicole and her husband Boris were so scared that there would only be bad news in their daughter's life due to her condition.
"We have gone through so many different emotional levels with Sophie. We had the fear of her dying to paralysis. All kinds of different monsters attacked us."
During the earlier years of Sophie's dialysis, Nicole took it quite hard, even needing to go to therapy for it. However, the doctors reassured her that there was nothing she could have done, as it just happens randomly given the rareness of the condition.
Now that Sophie is 13-years-old, she is doing much better than she was when she was younger, trying to live a normal life with her family and friends and conquering her spinal bifida.
Please fill in your e-mail so we can share with you our top stories!