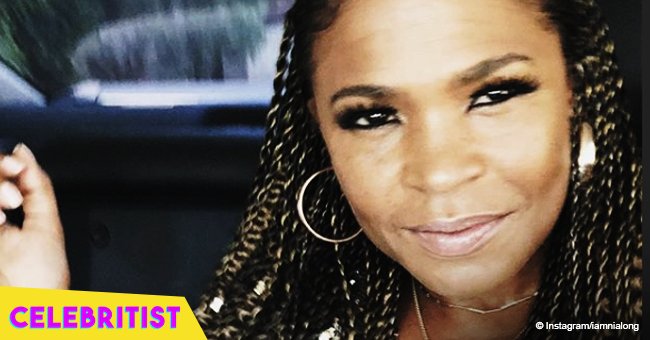 Nia Long proudly shares pictures of teen son looking good in red sweater & black pants
Nia Long has remained close to her teenage son Massai throughout the years, even sharing solo photos of the young man on Instagram.
Proud of how her son has grown up to be a fashion lover, Nia shared a recent photo of Massai dressed in a red sweater, black jeans, and a white pair of sneakers. He decided to accessorize his look with a pair of black sunglasses, which prompted his mother to say he was "feeling himself" on that particular day.
Now 17-years-old, Massai Zhivago Dorsey II was born on November 26, 2000, to Nia Long and Massai Z. Dorsey. The teenager grew up as an ultimate mama's boy, living with her and joining her on all her endeavors.
Just last year, the mother-and-son duo traveled all the way to Tanzania to learn more about the non-profit organization "Nothing But Nets".
According to Nia herself, she and Massai went there to meet up with the NGO and the UNHCR refugees team to learn about the deadly disease malaria that is currently plaguing the Nyarugusu Refugee Camp. When they visited the country, there was a reported 7 million cases of malaria in the area, and they take up almost 30% of all outpatient attendances in their hospitals.
Malaria is a severe fever caused by a protozoan parasite that wrecks a person's red blood cells. The parasite is transmitted by mosquitos and is prevalent in tropic and subtropic regions like Africa.
Nothing But Nets aims to spread awareness about the illness, especially its epidemic in Tanzania. According to the organization's website, they are a global grassroots campaign to raise awareness and funds to fight malaria.
"In 2006, sports columnist Rick Reilly wrote a column in Sports Illustrated challenging each of his readers to donate at least $10 to send insecticide-treated bed nets to protect families from malaria-carrying mosquitoes. Since then, with the help of our partners and supporters, we have raised over $60 million to help deliver 10 million bed nets to families in need, along with other crucial malaria interventions like diagnostics, treatment, and training of healthcare workers."
Now that famous personalities like Nia and her son have been making an effort to help the cause, more people in Tanzania will most definitely be given access to the knowledge and funds that they need to combat the disease.
Please fill in your e-mail so we can share with you our top stories!