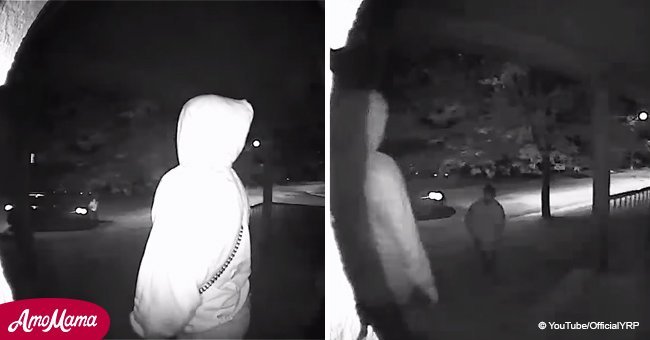 Terrifying footage shows woman being abducted: 'I'm gonna kill you'
A Toronto resident recorded a woman ringing a doorbell and being abducted early last Thursday morning in Richmond Hill. The assailant has been identified by police.
The York Regional Police issued a Canada-wide arrest warrant for 27-year-old Jonathan McLennan. He is the main suspect in a terrifying incident that was caught on a home surveillance camera.
At 2:50 a.m. on Thursday, a young lady walked up to a home on High Tech Road and Silver Linden Drive and rang the doorbell once. Before someone could open, a man came up to her with a gun.
As he approached, the woman backed away saying "Stop!" Then the man told her to "get in the [expletive] car right now."
He grabbed her hair and pulled her towards him and off the porch.
The woman then said, "I think I'm gonna die," to which the man responded, "Good," and repeated that she get in the car.
The assailant then threatened the woman, saying, "I'm gonna kill you, you wanna." After she said no, he pushed her into a waiting car and closed the door.
The homeowners who captured the event said they were sleeping at the time it happened. CTV News interviewed John Vuong, who said he looked at the footage in the morning.
"I kept playing it over and over and over again because I couldn't believe my eyes. It is unbelievable that it happened in my neighborhood. I had no idea who it was that came to the house, so for me, I really hope for the safety of the lady because that was very life-threatening."
Investigators found the woman who was attacked on Friday. She was identified as a 28-year-old from Richmond Hill and was found in good health.
The police also located and seized the suspect's vehicle, a 2017 Toyota RAV4.
They said they are not aware of why the woman went up to Vuong's home and rang the doorbell. The homeowner did not know either of the two in the video.
The police released a statement to the public warning them not to approach McLennan as he is armed and dangerous. Instead, they should call the authorities.
"Mr. McLenna is urged to seek legal counsel and turn himself in to police immediately. He is considered armed and dangerous. If you spot him, do not approach, call 911 immediately."
McLennan is facing charges of kidnapping with a firearm, forcible confinement and carrying a concealed weapon.
Please fill in your e-mail so we can share with you our top stories!