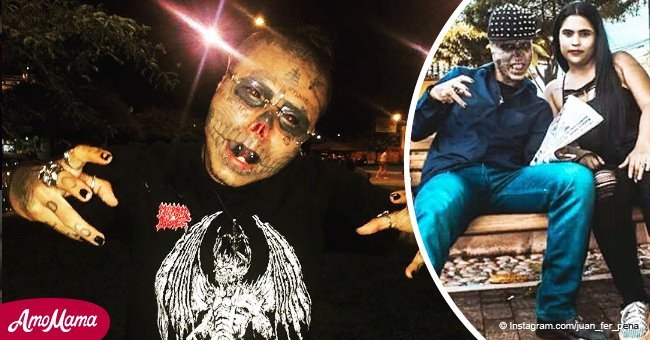 Man cuts off parts of his nose and ears to look like a living skull

Kalaca Skull underwent surgical procedures involving the removal of his lower nostril and both earlobes in an attempt to replicate a living skull.
The 22-year-old tattoo artist, whose real name is Eric Yeiner Hincapié Ramirez, was obsessed with skulls from a young age. Since his mother wouldn't approve, he waited until after her death to go through the extreme modifications.
Over the last two years, the Columbian went through a series of tattoos and surgeries to get the look of having a skull head.
Follow us on Twitter for more @amomama_usa.
In addition to mutilating his nose and ears, he tattooed his eyes a blue-grey, got piercings between them, and pierced his lower lip on both sides.
The South American also split his tongue in half in his efforts to achieve a skeletal effect.
He tattooed large teeth around his mouth and shaded the hollow space between the mandible and maxilla in ink.
To show off his head tattoos, Kalaca adopted a mohawk hairstyle. He has several other tattoos on his head, face, and neck.
The results of his efforts were picked up by Colombian newspapers, leading him to become a sensation in the country. On Instagram, he shares photos with fans and compares himself to frightening cartoon characters.
According to the Daily Mail, Kalaca told a Colombian news website, Rio Noticias, that he chose to become a living skull because it is something we "all share underneath our skin and in death."
He argued that "Body modifications are a personal decision and should not be judged."
"It is like judging a woman for getting breast or buttock implants. For me, a skull is like my sister, a part of my family really, I feel very attached to them."
But people do judge Kalaca. He admits that many people cross the street so as not to come face-to-face with him. However, Kalaca feels he is a "normal person who just happens to look a lot different than most other people."
He compared his choice in appearance to differences in music taste, styles of dressing, and ways of thinking. He felt the surgery was "a dream come true."
"I just feel good the way I am."
Kalaca has further plans for more modifications to complete his desired skeletal appearance.
He is among many more who have taken up the practice of what most others consider bizarre. Especially in Japan, extreme modifications are gaining increasing traction within our species.
Please fill in your e-mail so we can share with you our top stories!