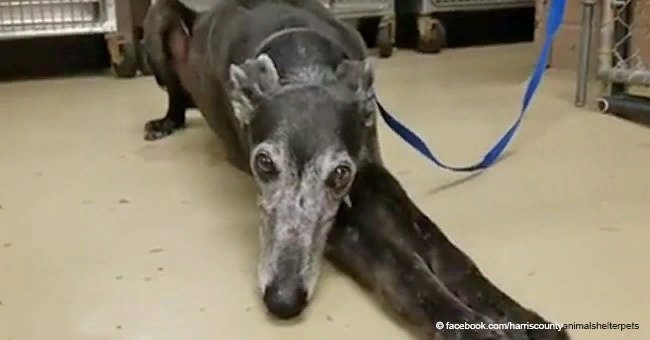 Loyal dog stayed by her deceased owner's side for a month before being found

A poor greyhound went an entire month without food. She lived alone with her owner, who passed away at home. The dog's situation was only discovered when they found her owner's body.
Nine-year-old Dory never left her owner's lifeless body during the month it took to people to find out about what was going on and to take her to a shelter to recover from her terrible ordeal, as The Dodo reported.
Dory is a retired racing dog that fell into a deep state of confusion and denial when her owner stopped moving, as she wouldn't understand that her human friend had died. Read more on our Twitter account @amomama_usa
The animal never gave up on the man who took care of her for many years, and she stood by his body to protect him, expecting him to wake up at any time.
Four long weeks went by and Dory never left the Houston, Texas home of her deceased owner, during which she didn't have anything to it. Only when the death of the man was discovered, she received some help.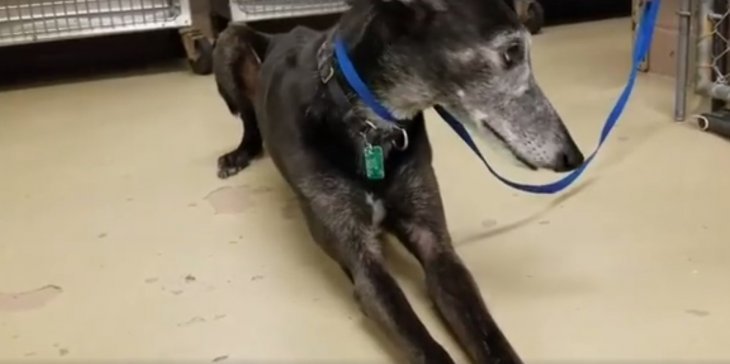 Source:Facebook/Harris County Animal Shelter Pets In Need.
Dory was rescued and taken to the Harris County Animal Shelter, to help her recover from the nightmare she had to undergo and help her find a new home.
"This dog has been home with her deceased owner for a month. Owner's body was just found today so pup was brought to shelter," the animal shelter "Pets In Need" Facebook page announced on November 19, featuring Dory in a video.
Considering what she had to go through, the volunteers at the shelter were surprised when they found that Dory's condition wasn't that critical. After her terrible month, she was only stressed, irritated and thin.
She was held in the shelter for a few days, in case some of her late owner's relatives wanted to pick her up. But nobody came for the poor thing.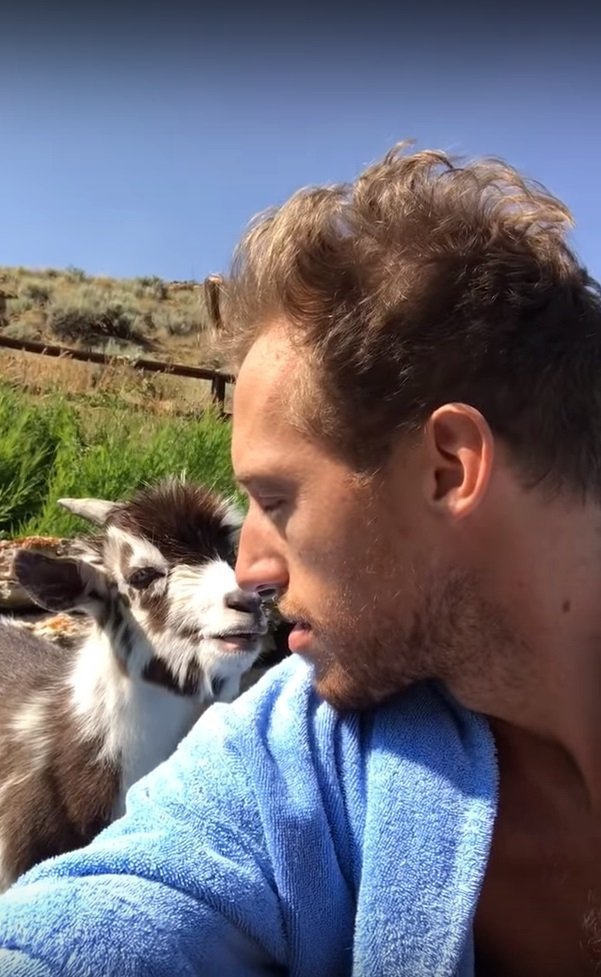 Source:Facebook/Harris County Animal Shelter Pets In Need.
With no one to take her to a proper home, Dory was moved to Greyhound Pets of America (GPA), where she was kept with the hope that some kind-hearted family would adopt her for good.
"The first couple of days were a bit stressful, but she has now settled in and is blossoming. Like all greyhounds, she loves to sleep and can't get enough of relaxing on the sofa or on the deck in the sun," the president of GPA Houston shared.
What an example of unconditional love. Good thing she survived such a cruel test of her loyalty. It is very touching to know how attached a pet can get to its owners, even when they are no longer living.
Another dog, named Sadie, had a similar experience to that of Dory when the man with whom she had spent her 13 years of life suffered a heart attack right next to her and nothing could be done to save his life.
Sadie had a hard time accepting that her owner was no longer around her. During days, she wouldn't have anything to eat, and she barely slept.
Only when she was allowed to say her final goodbyes to her owner during his funeral, Sadie could finally let go of the late man and managed to eat and sleep once again.
Please fill in your e-mail so we can share with you our top stories!