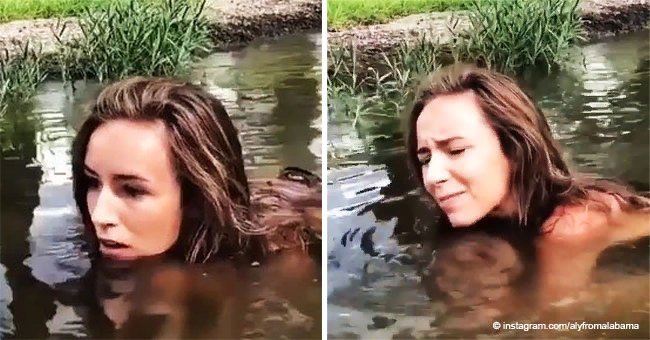 Girl squats in murky water, puts her hands to the bottom and pulls out a huge creature

A young woman from Alabama, United States, demonstrated through social media how they fish in the south of the country.
Anyone who has ever tried to fish knows that it is not easy. And of course, also that the difficulty usually increases directly proportional to the size of the piece that we have proposed as an objective.
But as in any other activity or sport, there are people who seem endowed with extraordinary virtues, people capable of doing with simplicity what for others is almost impossible.
An example of this is this young woman who leaves us speechless with her peculiar fishing style. In a clip, you can see the girl submerged in muddy waters trying to get something out of the bottom.
Introducing half an arm in the mouth of the animal and holding it with the other hand by the back of the head, the woman manages to control it and remove it from the water. Read more on our Twitter account @amomama_usa
Not only does she show a breathtaking tranquility, but she allows herself to pose for the camera and throw the fish on her shoulder, proud of her piece.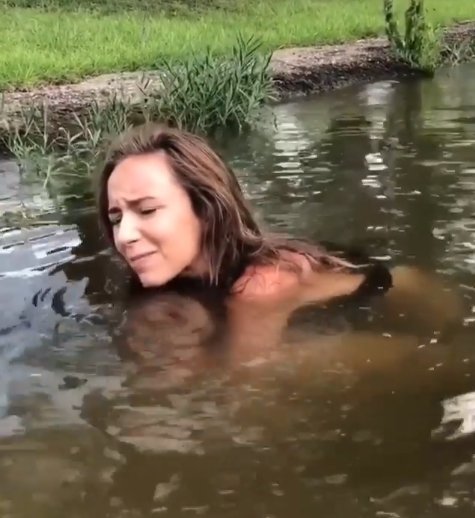 Source: Instagram/alyfromalabama
She was combing the area to try to catch a fish. "He swallowed my whole hand", she is heard saying in the video. After a few minutes of fighting, she pulled out a large fish that swallowed half his arm.
The girl related: "It's a big blue catfish ... I did not imagine that it was one because its mouth was too big," she said.
Then suddenly the fish, which had remained still, began to move violently. But after a moment of struggle, the young woman managed to control her prey and lifted him on her shoulder, commenting that the fish "stunk".
This style of fishing is known as Noodling, which means groping. It is the southern tradition of catching a catfish by placing bare (or gloved) hands in a known catfish hole and waiting for the fish to bite.
It should be noted that this kind of fish does not have very sharp teeth, but it does have many and the 'noodlers' point out that its bite is very similar to that of paper for sanding.
Alyssa Schreiber is studying at Troy University in Alabama, as described in her Instagram profile, and because of what you can see in the images she has shared in her account, she has done this type of fishing more than once.
Please fill in your e-mail so we can share with you our top stories!