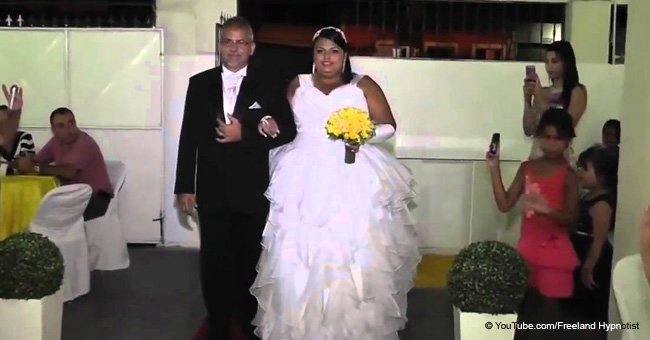 Bride and wedding guests flabbergasted as DJ gets a bit overenthusiastic
The bride was all ready to walk down the aisle hlding onto her father's arm, but then something unexpected happened: her music changed.
She had on her perfect dress, her pretty bouquet, a huge grin on her face, and a classical wedding march waiting for her as she entered the back of the room to meet her soon-to-be husband.
She and her father gingerly stepped through the back gate one at a time, and as they did a strange beat seemed to enter the music. The bride seemed confused, but appeared to try and brush it off, slowing inching closer towards the top end of the aisle.
Around her, wedding guests were standing, some holding up phones to snap photos and record video, and the strange twist in the music seemed to be getting to her as everyone watched.
As she reached the top of the aisle, the track escalated, turning into a full-blown mash-up of the bridal march and LMFAO's "I'm in Miami [expletive]."
As popular a song as it may be, it's not something a bride wants to hear as she takes the most important walk of her life to get married.
What ensued can only be described as cringeworthy. Guests started to look around confused, and the bride started shaking her head.
Horrified at the colossal error the DJ made at what was supposed to be her perfect wedding, the bride actually seemed for a second to start heading backwards. It seemed for a moment as if she was going to do an about turn and run.
The bride's grin had been turned into a devastatingly blank expression, and she seemed to be furiously conferring with her father as he tried to nudge her down the aisle.
Eventually, he spoke with a wedding guest who seemed ready to go hunt down the DJ who would ruin her friend's wedding day.
Hopefully the bride did eventually get her special wedding day.
Please fill in your e-mail so we can share with you our top stories!