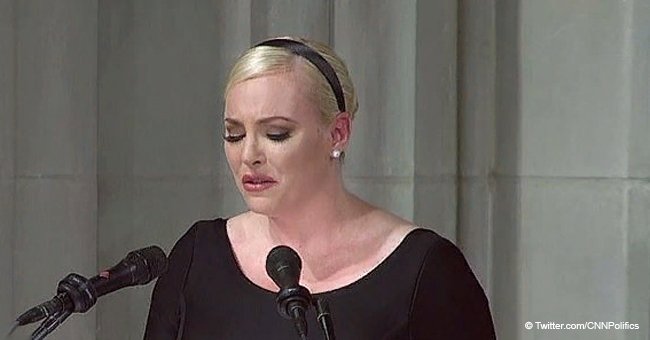 Meghan McCain rejects the need to 'make America great again'
Meghan McCain delivered a very powerful speech at her father's memorial, claiming that America has always been great and doesn't need to be changed.
This Saturday, September 1, 2018, the grieving daughter of the former Arizona senator took the microphone to tell those in attendance that the country didn't need to 'be made great again.'
As reported by CNN, Meghan took the words from President Trump's campaign and used to them make a bold statement regarding the country that her father knew and loved.
Inside the National Cathedral, in Washington D.C., Meghan was very adamant regarding her father's contribution to America, a country that she considers to be 'welcoming, modest yet strong.'
Follow us on our Twitter account @amomama_usa to learn more.
"The America of John McCain is, yes, the America of Vietnam, fighting the fight, even in the most grim circumstances, even in the most distant, hostile corner of the world, standing for the life and liberty of other peoples in other lands."
Meghan McCain, CNN, September 1, 2018
While President Trump is trying to work to 'make America great again, Meghan told those in attendance that the country didn't need any improvements.
THE AMERICAN SPIRIT
According to the 33-year-old, the America that her father knew was 'resourceful, confident and secure,' plus it met her responsibilities and knew how strong she was.
Remembering how Senator McCain, a former war prisoner, was captured, beaten and tortured every day for five years, Meghan said that the American country isn't afraid to 'fight the fight,' and doesn't need to brag over how powerful it is.
THE LOST BATTLE
The speech was received with a round of applause by the bipartisan crowd. Several high figures attended the memorial service, such as Vice-President Mike Pence, who was not only representing himself but also Donald Trump, who was asked not to be present.
John McCain lost his life after a fierce battle with glioblastoma, an extremely aggressive brain cancer, is scheduled to be buried on Sunday at the U.S. Naval Academy in Maryland.
Please fill in your e-mail so we can share with you our top stories!