Groom stops wedding and reveals he loves someone else in the room
Guests at a wedding were astonished when the groom interrupted the ceremony and declared that he loved someone else and pointed to another person in the crowd, but, everyone was moved to tears when they realized who it was.
Sovibes Sovibes shared a video on YouTube, on October 9, 2017, which showed the wedding ceremony of Jefferson and Jessica. 
The guests were shocked at first, a reaction that can be expected when a groom confesses his love for someone who is not the bride, but their shock soon turned to happiness when all of them realized the Jefferson was talking about his stepdaughter. 
Read more on our Twitter account @amomama_usa.
When the bride and groom were exchanging their vows, Jefferson began his remarkable speech. After sharing his marriage vows with Jessica, he said he had a confession to make and pointed towards Jessica's eight-year-old daughter, Giovanna, and requested her to come forward. 
The selfless groom got down on his keens in front of Giovanna and listed out all the things he would do for her as her father.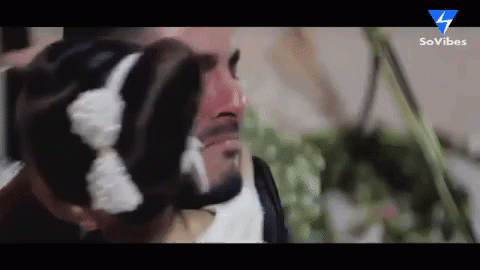 In his emotional speech, Jefferson, with tears in his eyes, told the eight-year-old girl that he was proud to have a lovely and intelligent daughter like her. 
Giovanna was moved to her tears because of Jefferson's words and smiled at him. 
Jefferson looked into the girl's eyes and made a promise to her that he would always be there for her, just as he had promised the same to her mother a few minutes ago during the vows.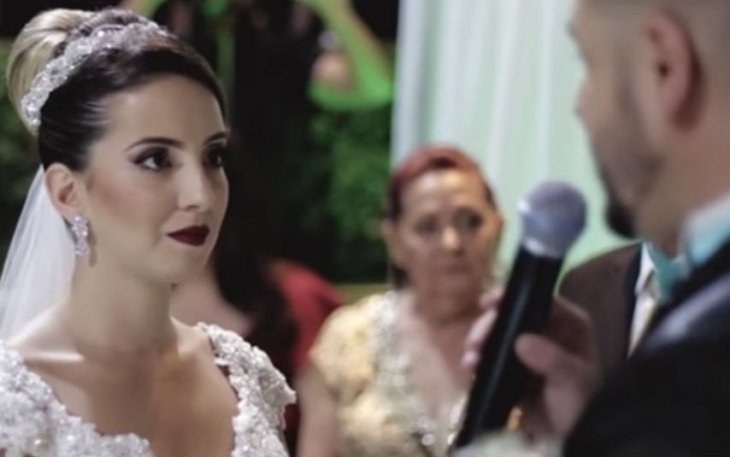 By this point, Jessica and all the wedding guests were moved to tears. He went on to say that he would always protect his little girl and would not let anything happen to her. 
Overwhelmed, Giovanna took the mic from her father and thanked him.
The speech turned out to be one of the most heart-warming wedding speeches that anyone has ever seen. Watching a man declare his love to his stepdaughter with such sincerity would undoubtedly melt everybody's heart.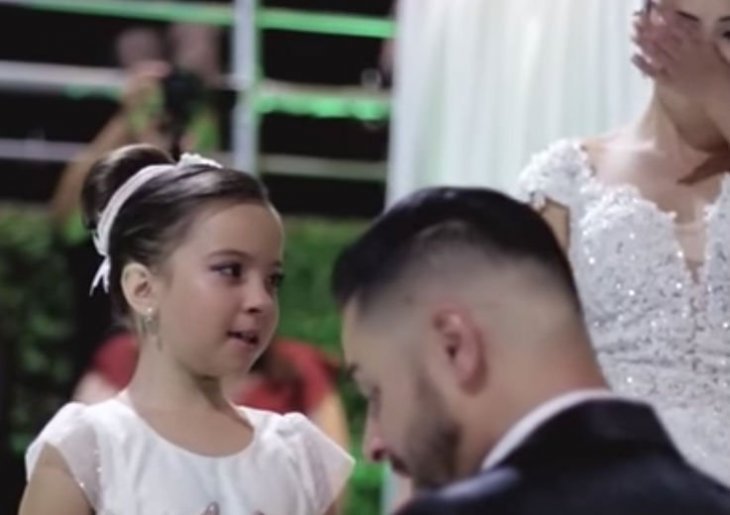 Another groom did something extraordinary to honor the incredible love and friendship shared between his bride and her sister, while he was proposing.  
The sisters, Ashley and Hannah Schaus, had always shared a special bond since growing up and their relationship only grew stronger when Ashley discovered that Hannad had Down's syndrome. 
When Will Seaton and Ashely began their relationship, Ashely wanted nothing to change between her and Hannah. She wished that Seaton would love and accept Hannah in his life too. 
The groom understood his girlfriend's situation and welcomed Hannah into his life with open arms. When he planned to propose to his girlfriend, he took Hannah along with Ashley as well, reported by AWM.
After he proposed to his girlfriend, Seaton took out another ring from his pocket and asked Hannah to be his best friend for life. Both the sisters were overjoyed and said yes.