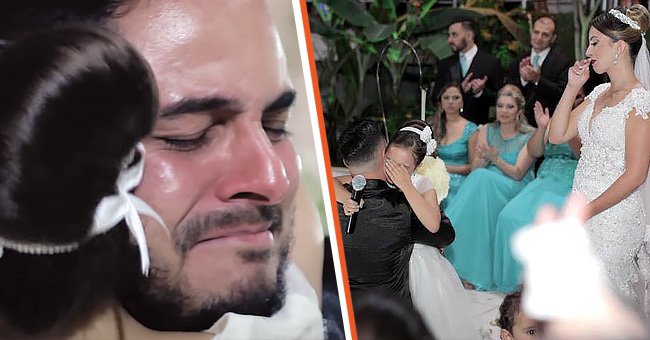 youtube.com/Rec On Cine Concept
Groom Interrupts His Wedding Vows, Unsuspecting Bride Sees Him Kneel in Front of a Little Girl
When a groom grabbed the microphone to read the wedding vows, his bride and the guests listened intently to his love confession. But halfway through his speech, he turned to someone else in the room, taking everyone by surprise.
Weddings are a grand celebration, marking an essential phase in a couple's life. They provide the perfect opportunity for two people to declare their love and vow to stay together for better and worse.
Taking each other as husband and wife is a special moment that stays with people for the rest of their lives. Many couples prepare emotional wedding speeches to profess their love, and one groom did just that, with an intriguing twist that made a huge difference.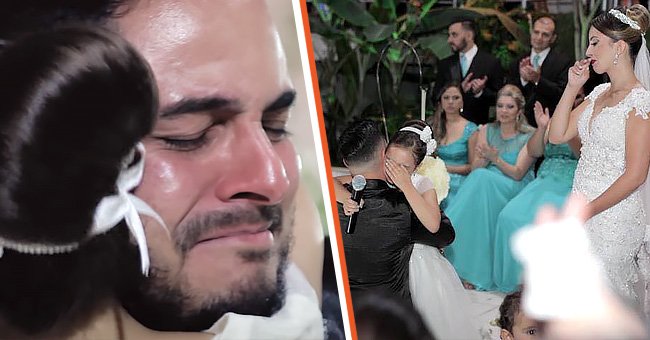 [Left] Jefferson hugging Giovanna; [Right] His gorgeous bride, Jessica watches as the two embrace | Source: youtube.com/Rec On Cine Concept
A LOVELY COUPLE
Jefferson and Jessica couldn't wait to tie the knot and start a happy married life together like any couple in love. As was expected, they mapped out an exquisite wedding and were all set to celebrate their union surrounded by family and friends.
For their wedding day in 2017, Jessica picked a stunning white gown and topped it off with a matching tiara and veil. Jefferson also looked dapper in his black suit and finished his look with a bow tie.
Everything seemed perfectly planned out, from the couple's jaw-dropping wedding looks to the arrangements and decor. The guests had their eyes fixed on the beautiful couple, eager to witness many more heartwarming moments.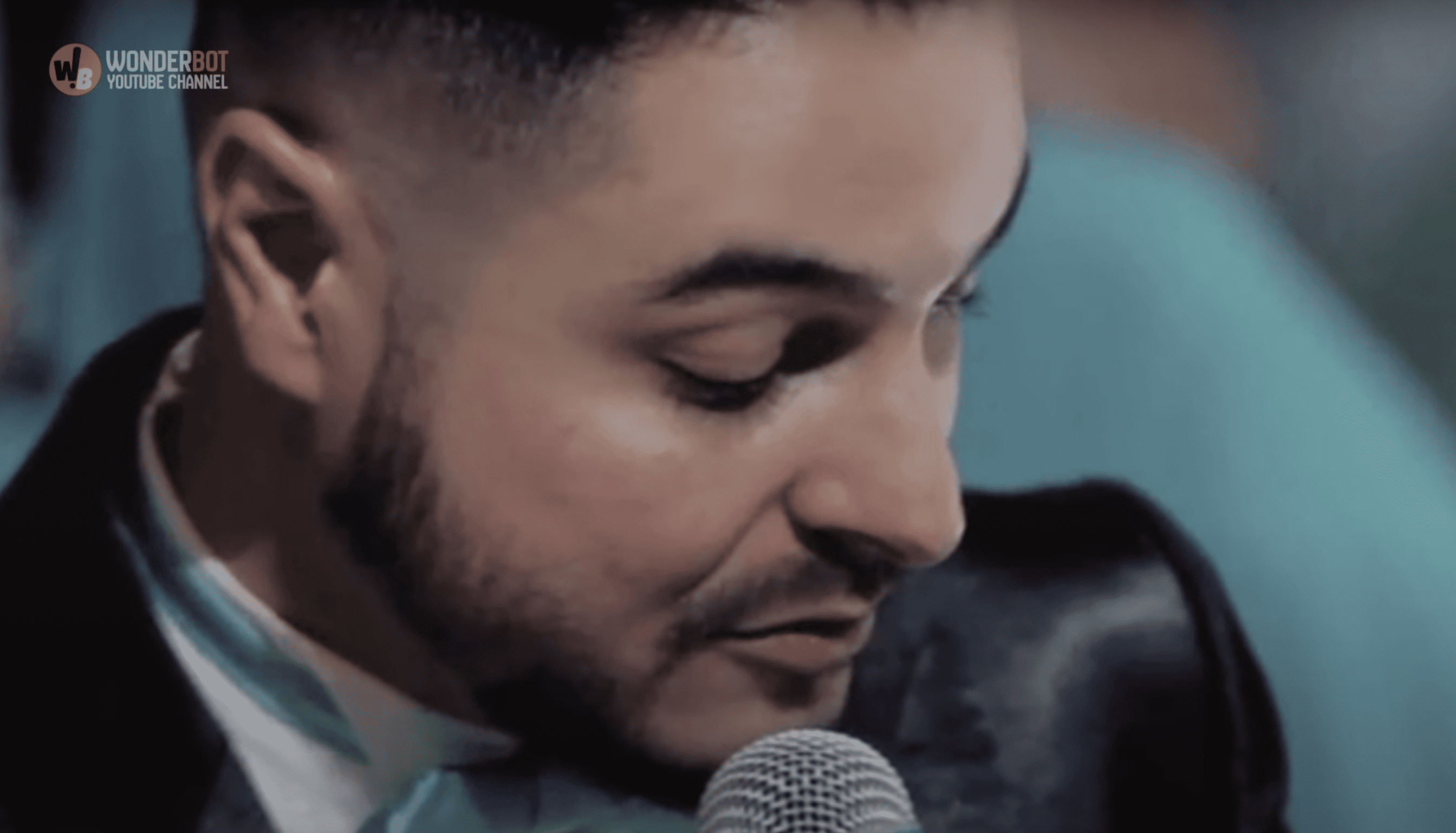 Jefferson pictured while reading his wedding vows. | Source: youtube.com/Wonderbot
AN EMOTIONAL WEDDING SPEECH
But right at that moment, Jessica watched as Jefferson took the microphone, called everyone's attention, and took out a piece of paper. She held her breath as her handsome groom started reading his wedding vows, lovingly gazing at her the entire time.
Here's another groom who chose his wedding reception to tell his unsuspecting bride they had just become a family of three.
A wave of emotions swept over Jessica as she watched her beloved husband, but right in the middle of his speech, Jefferson paused and uttered something that astounded everyone in the room.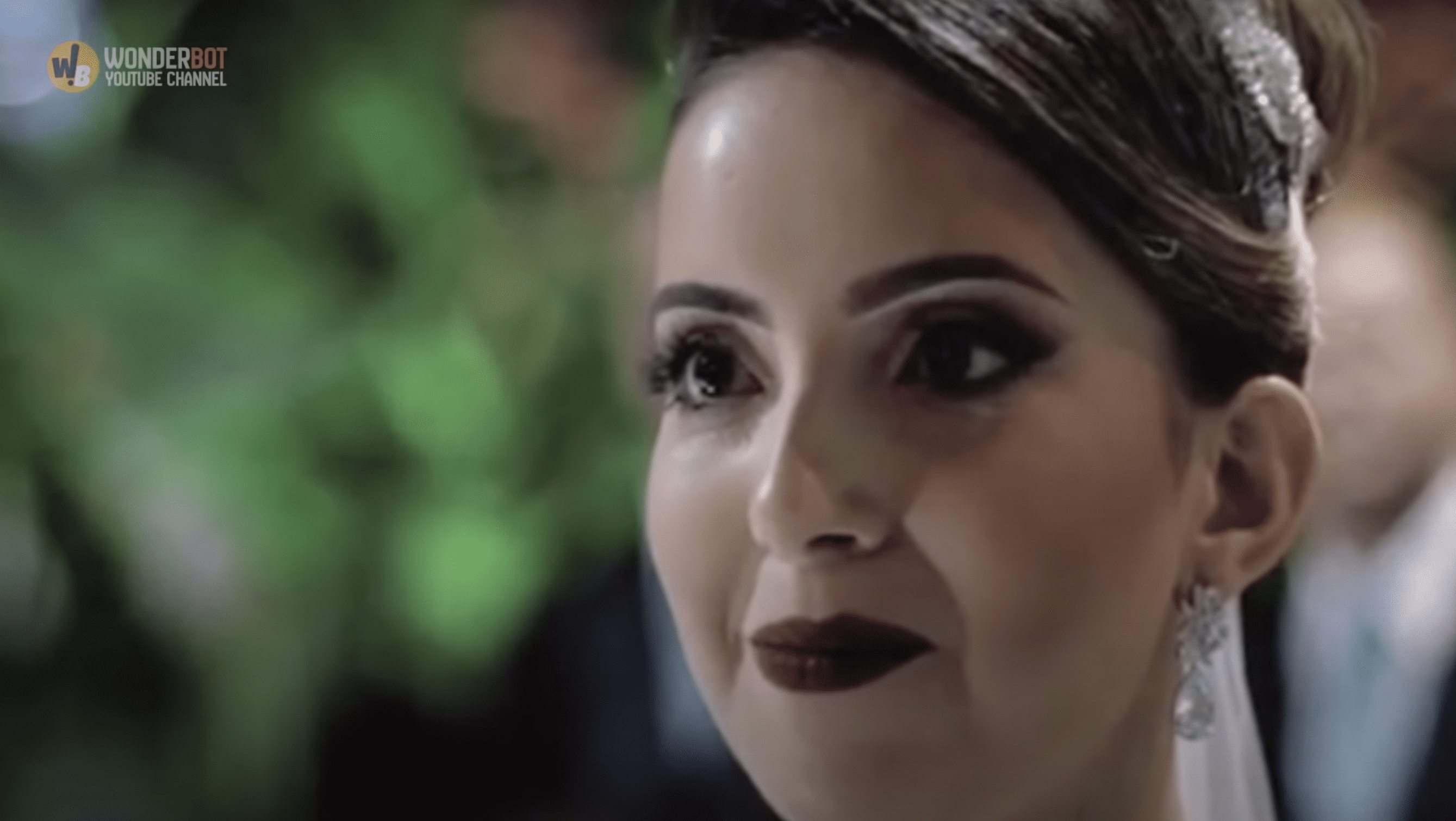 Jessica captured smiling at her husband while he delivered his wedding speech. | Source: youtube.com/Wonderbot
THE MOMENT THINGS TOOK A TURN
Suffice it to say that even his gorgeous bride was astonished as Jefferson suddenly admitted he loved someone else. What was he thinking? Did he get cold feet? Little did the guests know that what the Portuguese groom was about to say would change everything.
Then, Jefferson pointed to someone in the audience — a little girl dressed in white, who looked just as dazzling as the bride. Gradually, the guests understood that the groom had no intentions of leaving his pretty wife. Jefferson added:
"There's a person here that makes this day possible and my next words are for her."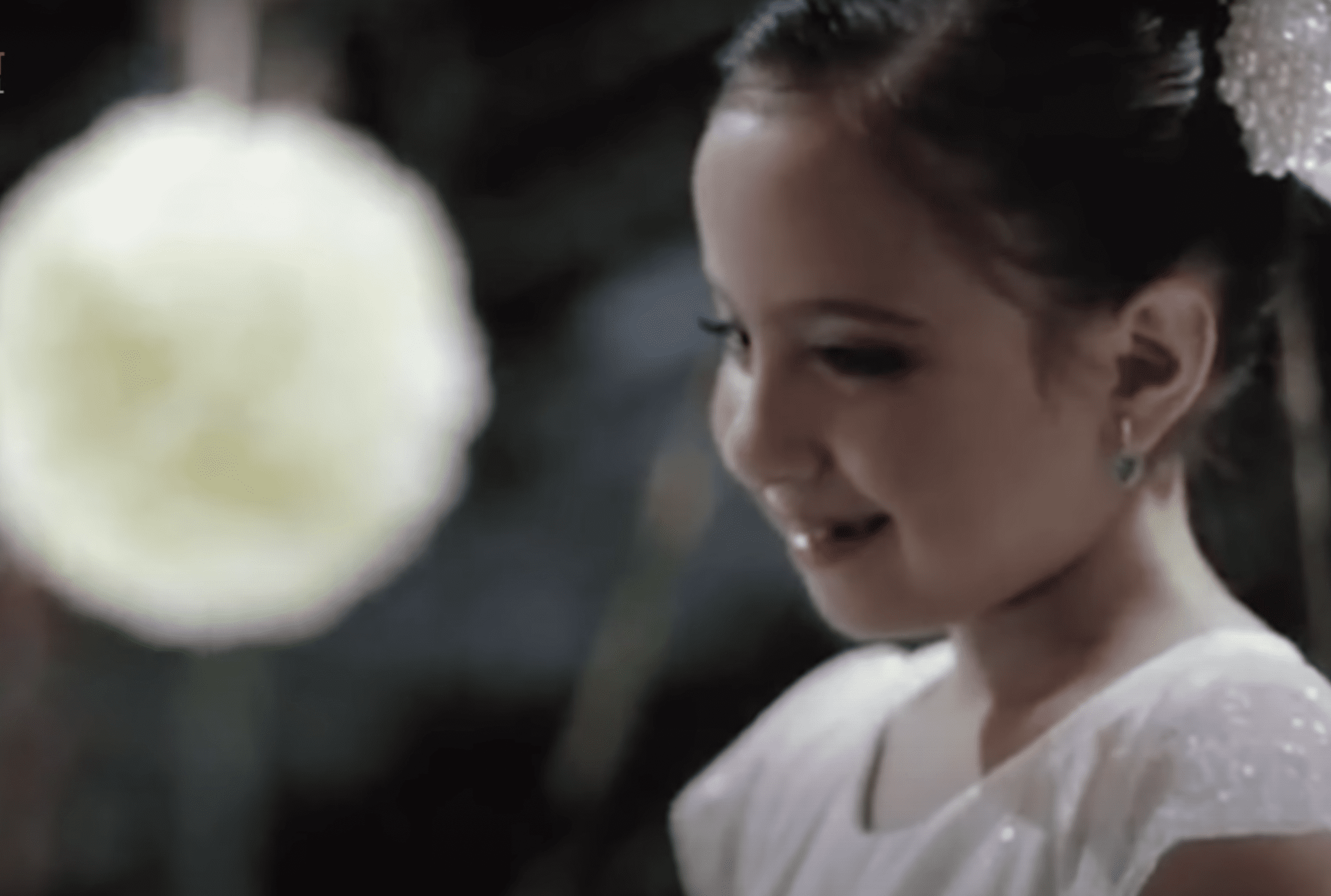 Giovanna pictured smiling at her step-dad. | Source: youtube.com/Wonderbot
A SWEET DECLARATION OF LOVE
He took a few steps and kneeled in front of a lovely little girl, Giovanna. Jessica looked over her shoulder and smiled when she realized what her kind-hearted husband was about to do.
Giovanna was Jessica's eight-year-old daughter, who had anxiously waited for her mother to marry Jefferson. Although he was not her biological father, the two shared a special connection.
Amidst an emotional audience, Jefferson professed his love to little "Gi" and stated how much he enjoyed being around her, from ensuring she brushed her teeth and finished all her food to poking fun at her.
THE BEST DADDY-DAUGHTER DUO
He mentioned how he loved calling Giovanna by her nicknames, like "little flower" and "little sheep," and how much she meant to him, even though he wasn't her biological dad. Jefferson also expressed:
"If I could ask God anything, it would be to have you as my daughter. I would be the proudest father in the world to have such a beautiful, intelligent, and educated daughter like you."
The doting step-dad openly declared that his commitment was not only to Jessica but also to little Giovanna. "I also give you love, my love. I will take care of you and always protect you and never let anything bad happen to you," concluded Jefferson.
A UNIVERSAL MESSAGE OF LOVE
Giovanna watched her stepfather struggle with words as he confessed his love to her. The little girl wiped tears from her eyes, grabbed the microphone, and told Jefferson he was the "father of her heart."
She also mentioned how grateful and fortunate she felt to have him as her step-dad. Soon afterward, the daddy-daughter duo shared a long and emotional hug, with the entire hall crying tears of joy.
The soul-stirring wedding video was shared on YouTube in February 2017 and has garnered more than 11 million views to date.
While you may not speak Portuguese, you'll still be able to comprehend and reciprocate the universal message of love.
Undoubtedly, Jefferson's profound gesture of love will forever be remembered by Jessica and Giovanna, and we hope this beautiful family continues to prosper. Please share this touching story with your loved ones.
Jefferson wasn't the only one full of surprises on his big day. Here's another groom who chose his wedding reception to tell his unsuspecting bride they had just become a family of three. You can click here to find out what happened next.
Please fill in your e-mail so we can share with you our top stories!