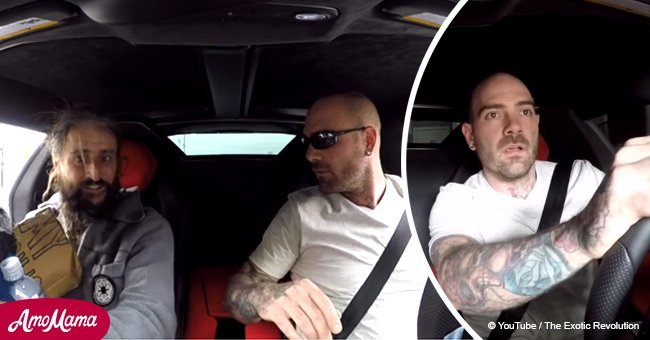 Driver picks up homeless man in his Lamborghini and truly changes his life
Chris Collins drove around the streets in his Lamborgini Aventador to try and find someone down on their luck and help that person in any way he could as he felt that he had to give something back to society.
Collins shared a video on his YouTube channel The Exotic Revolution on October 17, 2016, in which he chose to help a homeless man named Alex by pulling over his Lamborghini Aventador.
The video begins with Collins leaving home in his fancy car and stopping on the side of the street. He says in the video that he had made up his mind to help a specific homeless person.
Read more on our Twitter account @amomama_usa.
He rolls down his window and calls out to the person asking him if he is hungry and the man's reaction proves that he is shocked to see someone stopping in such a car and asking him out for lunch.
Surprisingly, the homeless man, Alex, is at first reluctant to get in the car with Collins. He says that he does not want to lose the money that he makes by being on the street.
When the car owner hears Alex refuse his offer, he quickly tells that he will give $100 to Alex if he eats lunch with him.
The homeless man then sits in the car, and the two get talking. At one point Collins asks Alex what he wants to eat to which the latter says that he wants something spicy.
Throughout the video, Alex seems amazed as if he still couldn't believe the sudden turn of events. When they stop for lunch in Utah, most of the eateries are closed.
Collins finally decides to head to Jersey Mike's to eat sandwiches. After they are done with their lunch, the selfless Collins says that he will book a hotel for Alex so that he could have a hot shower and a comfortable bed.
The two go to a hotel, and Collins pays for a room. The video ends with the two men parting ways outside the hotel.
The Good Samaritan's video touts that every once in a while a small act of kindness can make a big difference in a person's life.
Even though the YouTuber's video received positive reactions and comments from views, it was the negative comments that made Collins continue to help Alex by getting him a job interview later on.
Some people who viewed the first video commented that Collins was either trying to earn fame, money, and followers by making such a video or was just showing off his wealth.
Collins posted another video on YouTube on December 5, 2016, as a reply to the negativity that surrounded his act of kindness.
The second video shows Collins and Alex's fantastic journey together. The video starts off with Collins explaining that with the number of views that he gained in his first meeting with Alex, he roughly made $430.
In his second video with Alex, Collins picks up Alex again and buys him clothes, gets him a haircut and also a hotel room to stay in. He informs Alex that he has set up a pretty good job interview for him to attend.
Collins takes the grateful Alex for the interview, but he fails to clear it. Saying that he does not want to give up, Alex gets another chance to attend a second interview for the same job and this time he seizes the opportunity and gets the job.
Please fill in your e-mail so we can share with you our top stories!