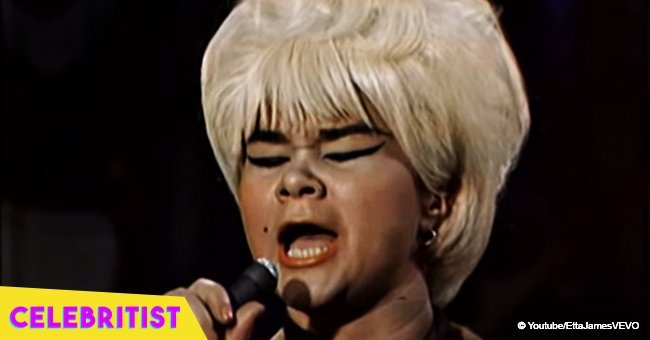 Remember Etta James? Her son admitted drugs weren't the main cause of his mom's 'bad' behavior

Late R&B legend, Etta James, was famous for two things: her golden voice and her struggles with substance abuse. Her son, Donto James, however, revealed that his mother's erratic behavior was not a result of her drug addiction history.
Etta was born in Los Angeles to a drug addict mother whose path she eventually trailed. Her troubles with drug addiction stalled her career at one point, and people naturally blamed her erratic behavior on the condition.
Donto, who was a drummer in his mother's band, dismissed the notion. In an interview with The Daily Beast after his mother's death in 2012, Donto explained:
"They tried to question her competency and she was like that for years and years. She was the type who would cancel a gig just like that. She wasn't all of a sudden acting erratic."
He argued that her actions in later years stemmed from her personality and not early signs of dementia as widely believed. Donto recalled a time when the "At Last" singer had been billed to play at President Bill Clinton's inauguration ceremony, but changed her mind on the concert morning because she felt she was underpaid:
"She woke up in the morning and said, 'I have a headache. I am not doing [the show].' That was how she was. She did what she wanted to do. She would dwell on things. She didn't want to be taken advantage of and she would get resentful of certain things and she would act on it."
"We would go up to play first, and we would always wonder if she was going to come out. I would say, 'Why do you do that?' and she awould say, 'Just to mess with you.'"
Unknown to many, Etta had urinary tract infections that affected her physically and mentally. According to Donto:
"She would do her job but sometimes it was a little rough. During a performance on a Mexican cruise in 2005, [she] forgot her words and when she got back to her room she was hallucinating."
Before dying of leukemia complications at the age of 73, Etta's personal life was fraught with conflicts- financial battles, divorce, legal proceedings, etc.
The "Trust In Me" singer died on January 20, 2012, in the arms of her son, Donto. In a final tribute to his mother, Donto stated:
"For sure, the world lost a legend today. I am very proud of her and very thankful."
Please fill in your e-mail so we can share with you our top stories!