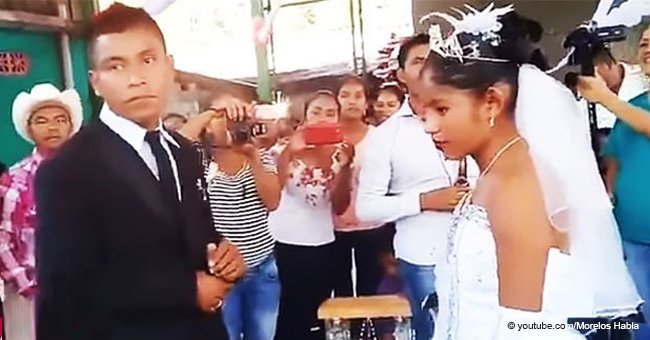 Do you remember the 'saddest wedding'? Here is the story behind that heartbreaking video

A video that shows two young people totally discouraged and sad on their wedding day has gone viral on social media.
Although the animator and the guests try to cheer up the couple, both show no sign of affection or happiness for the big day and the users do not understand very well why.
The day of your wedding is supposed to be an event to celebrate and share with your closest friends. However, this video shows the opposite.
Without more information than the images themselves, the users of the networks have massively broadcast a video that shows what appears to be an "arranged wedding".
Under the title "the saddest wedding in Mexico", a video was published on Youtube in which the bride, with very little encouragement, sees how time goes by. Read more on our Twitter account @amomama_usa
At first, it was thought that the story of this arranged marriage had been in a town in Tlaxcala, but it actually happened in Rancho Viejo, a small town of only one thousand inhabitants in Tlacoachistlahuaca, Guerrero.
PEOPLE TRY TO MAKE THEM SMILE
In the video you can clearly see that the young people are not having a good time, their faces show concern or resignation to the questioned practice of forced marriages.
The constant attempts of the animator to improve the situation are unsuccessful. In a moment the boyfriend is forced to kiss his new wife but only manages to kiss her on the cheek.
While they were forced to say yes, there was no smile if they were complicit in the couple's eyes. Univisión Noticias, sent a special team to the town, to know more about the couple; when they found the relatives, they decided not to talk.
IT IS A TRADITION IN THE AREA
Juan Javier Carmona, mayor of Tlacoachistlahuaca, told the media that this is very common in the town. Apparently, the town and other surrounding areas are full of sad brides, since it is an indigenous tradition that dates back more than 200 years.
The video, which has more than 3 million views, has generated various criticisms from users in social media, who consider this type of traditional practices as macho culture and oppressive.
NO MORE ARRANGED MARRIAGES
Throughout the world, attempts have been made to end this practice of forced marriages. Recently, a photographer in Turkey refused to take photos of a wedding in which he had been hired when he realized that the bride was only a 15-year-old girl.
Although the photographer had to confront the boyfriend of the girl, he did not give up and made it clear that he does not support this terrible tradition of marrying girls by force.
Please fill in your e-mail so we can share with you our top stories!