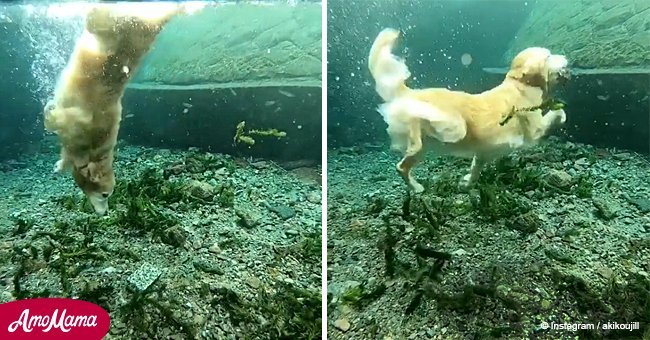 Golden Retriever has absolutely incredible diving skills

The advantage of living in the age of technology is having the chance to watch incredible things being done around the world.
In the case of animals, the phenomenon becomes more interesting. Thanks to social media, a beautiful dog has become very famous for her amazing talent.
While some dogs are frightened to see their human calling for a jar of shampoo in their hand, Jill, this athletic golden retriever, not only seems to love getting wet but also demonstrates swimming talents extremely unusual for her species.
Jill is a female dog of the British Golden Retriever breed, which catches everyone's attention by the large size and her golden hairs. Incidentally, dogs of this breed have already been used for hunting.
As reported by Buzzfeed, the story of Jill shows, once again, the cleverness of these wonderful animals. Read more on our Twitter account @amomama_usa
The talented Golden Retriever has more than 15,000 followers on the Instagram page and attracts thousands of fans for the talent to find things.
In these incredible series of videos the dog quickly became famous with 890,000 views, Jill plunges into an unusual depth for dogs, behind a brick thrown by the owner.
Fans of swimming and adept of acrobatic jumps, the bitch shows all its prowess when bringing the brick back of the bottom of the river.
Literally, as a fish or mermaid, she defies the pressure exerted by the water to retrieve the lost item from the owner. It is really to be admired.
Please fill in your e-mail so we can share with you our top stories!