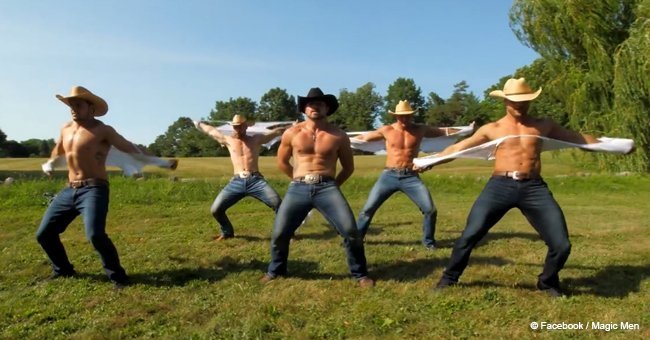 Five hot men get together and steal the show the instant they start to dance (video)

No matter how you feel, surely this article will make your day, just take a look at the hot guys we are going to talk about.
These guys are known as the Magic Men, a group of around 5 young people who are revolutionizing social networks with their incredible bodies and as if that were not enough, they are also excellent dancers.
Young entrepreneurs have a show called Magic Men Live that consists of a talented and diverse cast of some of the hottest, most handsome men alive as they take you on a journey through every fantasy that's ever crossed your mind.
Magic Men Live offers an interactive experience in your show, which allows anyone who hires them to have the opportunity to shout, sing, dance and of course, touch them!
If you have ever been to a stripper show you will know that it is usually not allowed to touch any of the models, so you should leave your hands still while you are dedicated exclusively to watching the show.
For this reason, Magic Men Live is revolutionizing this part of the entertainment industry. Read more on our Twitter account @amomama_usa
Many wonder if the show includes nudity and although it is not stipulated as such due to legislation that prohibits nudes a live show, the Magic Men report that occasionally (always) accidents occur with the costumes that enchant the spectators.
But do not think that it is a group of vulgar stripper dancers, at all, what distinguishes this group and the experience they offer is a balance between good taste, class, sexual attraction, a touch of comedy and a cordial treatment.
Although it is not necessary to tip the kids while they perform their show, it is totally allowed since it is always fun to play raining money on the models and try to place some bills in their pants.
You can attend the events scheduled in your schedule or request their services for a private function, we guarantee you will be delighted.
If all men knew how exciting is for a girl to watch them dance, they would do it more often. Just like these handsome firefighters that recorded themselves having a lot of fun with a lip-sync battle and a hilarious dance.
Lose control for a little while and dance with your heart and soul the same way this man did. This dentist quickly went viral after sharing a video where he appears dancing passionately.
Please fill in your e-mail so we can share with you our top stories!